In the winter of 1924, the Vancouver Daily World carried the headline, "Bride-Of-Day Sails Away to Mission Field." That bride, Dorothy Wade Bell, had bid a reluctant farewell twenty-eight months earlier to her husband, George Anderson Bell when he left to join his brother and sister-in-law for missionary service in China. Now, equipped with training in Bible school and nursing, she was ready to join her husband. For the next thirty years, George and Dorothy were surrounded and battered by hardships, but they were not deterred, and through these trials, they grew stronger in faith. They would see the first-fruits of their Tibetan work after almost three decades. Read on to find out how Dorothy learned to persevere in faith.
Victory in Weakness
A Tribute to George and Dorothy Bell, twentieth-century evangelists in the highlands of northwestern China
By Mugwort
Translated by Ma Kay Wai
Read the article in Chinese in the free ebook 淨光高處開江河_五個關於西藏宣教的單元故事 (2022).
​​​​​​​In the icy winter of 1924, the Vancouver Daily World carried the headline, "Bride-Of-Day Sails Away to Mission Field." [1]  That bride, Dorothy Wade Bell, had bid a reluctant farewell twenty-eight months earlier at the West Toronto Railway Station to her husband, George Anderson Bell when he left to join his brother and sister-in-law for missionary service in China. Now, equipped with training in Bible school and nursing, she was again at the same railway station ready to join her husband. For the next thirty years, George and Dorothy (like many of the missionary pioneers of the Tibetan Plateau) were plagued by frequent armed conflicts and political unrest. Missionary life was far from monotonous. They were surrounded and battered by hardships, but they were not deterred, and through these trials, they grew stronger in faith.
Prayers lift language barriers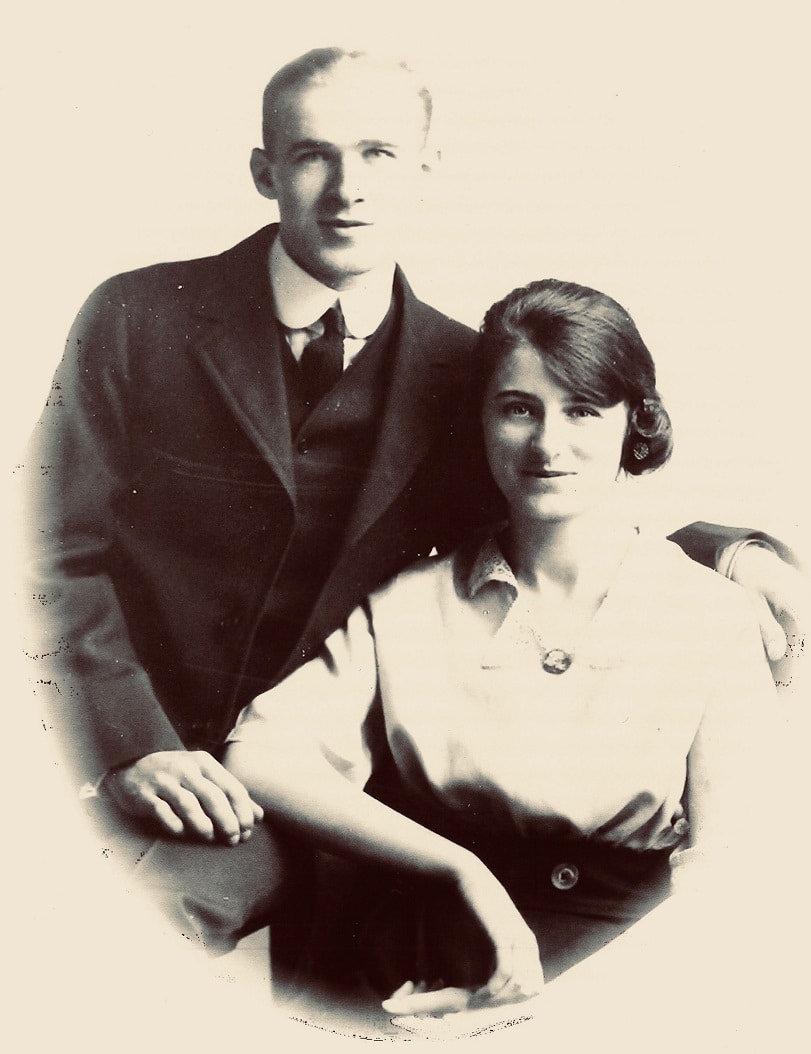 When they reunited in Shanghai, George and Dorothy began preparations for things that would be needed inland. They then embarked upon an epic journey, traversing bumpy roads in springless carts and scaling steep slopes in horse litters. Their faces and clothes were always caked with dust and dirt, and they were tormented by the fleas and other little creatures that vied for biting rights on their skin. When the mountain roads became too precipitous for the mules to manage the litter with Dorothy inside, she had to continue the climb on foot. To cross the mountain pass at 4,000 meters above sea level, she had to cling on to the tail of a mule. Eventually they reached their first "home", the mission station in Hualong, Qinghai. George's brother and sister-in-law, John and Edith Bell, caringly helped them to settle down.
For Dorothy, learning the Chinese language was more difficult than ascending the high mountains. For years, smiling, gesturing with her body, and giving a light touch of the hand were her only way to communicate when she accompanied Edith to visit people. She felt her inadequacy deeply when she was among colleagues who had mastered the language. Only by praying persistently did she gain the strength needed daily for the task. Through many long hours, tears, and persistent hard work, she learned to understand sermons and to vocally pray in Chinese during the regular prayer meetings. By God's amazing grace, twenty years later, Dorothy could even help George—who had become the superintendent of the CIM Tibetan language program—compile a set of Tibetan language learning materials for new co-workers.[2]
​​​​​​​​​​​​​​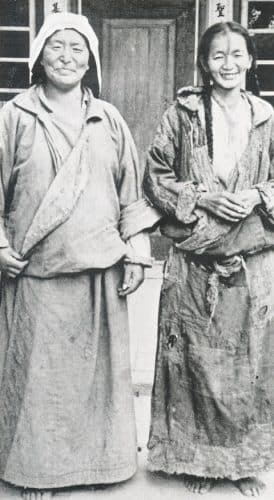 The first two Tibetan Christians baptised in 1950 at Guide. China's Millions, British edition (December 1950): 125. They were the first-fruits after 28 years of Tibetan work.
They were sacred moments to me, one who has been in Tibetan work for less than a year, so you can imagine something of what this baptism of our first Tibetan Christians meant to Mr. and Mrs. Bell who have labored here for nearly 30 years. One of these women had come four or five miles most Sundays to worship and has believed for some time. She is a very stolid, matter-of-fact person, and there is much that we would like to see changed, but her faith is evident. Pray for her. The other woman who has been here for some months and had a dream about 'the foreign doctor's God." When approached about baptism she had not a doubt in her mind and said whether she lives or dies she's determined to be a Christian. When she is really well we hope that she might be able to take us into the villages preaching. She has learned nearly all the hymns and choruses that have been put into the colloquial, and she is ever anxious to learn all she can. But please do not forget the forces against her—they are greater than can be described, and must be felt to be known.
– Mary Milner, Kweiteh, Tsinghai
China's Millions, British edition (January 1951): 22.
Prayers comfort loss
Living in an isolated mission station with poor access to health care and medicines, the Bell family frequently encountered sickness and even loss of loved ones. Even so, they truly experienced the faithfulness of God through such trials.
When their eldest son Jack was three months old, George had to move the whole household westward to Guide County of the Hainan Tibetan Autonomous Prefecture in Qinghai province. It was more than a hundred kilometers away from Hualong. They were to nurture a handful of believers and build up a church there.
The summer days in Guide were long and hot. With no refrigeration, milk quickly soured. So every morning, George went out to get milk from the milk seller for baby Jack. The freshly arrived milk had to be strained through several layers of cheesecloth and boiled for safety before the baby formula could be made up. Often, they needed to attend to visitors to their Gospel Station even before breakfast.
Dorothy was about to give birth to their second child in 1927 when the ongoing Chinese Civil War drew near to Lanzhou. Fearing that their animals would be conscripted, all the muleteers refused to take Dorothy to the hospital in Lanzhou. The couple thus decided that Dorothy would give birth at home. John and Edith Bell came from Hualong to help and were witnesses to the birth of a beautiful baby girl. Dorothy and George were heartbroken when their baby daughter died after just two weeks.
The Lord lent us the girl for two weeks. We were filled with joy … heaven became so real to us. Our little one is already there experiencing the joy of being with the Lord; she will know nothing of sin and pain. But oh, we miss her so…. If our need had not been so great, we would never have experienced the deep tenderness of the Lord nor realized how abundant is His grace. His strength is made perfect in our great weakness.[3]
In the midst of her grief, Dorothy learned, "When we needed the Lord, He was close at hand, pouring in His comfort and peace. Now we spoke not only from the conviction of faith, but from the test of experience."[4] Neighbors could not help but burst into tears upon hearing this.
Because of the language barrier, Dorothy had not yet been able to share her faith with the local women. But when Dorothy resumed her visitations, she found a new bond between them. Sickness and trials were nothing new to the local women. When they realized that Dorothy was no different from them, just another human coping with the pain of losing a loved one, they said sincerely, "Our hearts ache for you when you have sorrow so far from your own people."[5] As the hearts of these women were beginning to open, Dorothy shared with them that she was certain to see her little one again because of the hope she had in Christ. These women witnessed the reality of her faith in the Lord Jesus Christ, for the sorrow of Dorothy was different from those with no hope.
God's abundance exceeds all that we ask or imagine. His power shines through in human weakness, and suffering is often the catalyst. In their long years of serving the Lord in China, George and Dorothy not only lived through tumultuous times, they also had to endure the pain of losing three of their children one after the other.[6] Seemingly covered by darkness, they experienced comfort in tears. Although they didn't understand the Lord's reasons, they found that they did not need to understand, only to trust. Heaven became more real to Dorothy as the days went by. There was a time when she was overwhelmed with sadness, and God met the deep need of her heart through the hymn, "The Glory of His Presence." This fellowship with the Lord was indescribably sweet, from which she received enormous strength.
More suffering, more peace is experienced
In the midst of the sorrow of these years, the missionaries and Chinese Christians were one in Christ in a bond of love that only suffering could have forged. They would weep with each other, rejoice with each other, and support each other to ride out difficult situations. Their shared experiences strengthened them in a bond of friendship.
Dorothy had a life verse that served as an anchor, steadying her through the years. Once, when she stayed overnight at Xian while taking her son Jack to Chefoo School in Shandong Province in northern China, her hostess spoke with Dorothy about trials and sorrows, and asked if she had noticed the Chinese translation of 2 Corinthians 12:9. Dorothy opened the Chinese Bible and read: "my grace is sufficient for your use." Though familiar with the verse, Dorothy suddenly saw it in a new light, "No matter what the trials are, God's grace is always sufficient. If I fail to find it so, it's because I do not use it."[7] From then on, the Chinese rendering of 2 Corinthians 12:9 was a continual help to Dorothy. When she had deep need and felt she could not move on, Dorothy would hold on to this verse. She found that God's grace had been a rock on which her feet were firmly grounded. His strength had helped her to overcome her weaknesses time and again.
During the second Sino-Japanese war (1937–1945), the Bells were kept busy with their work. On the day when Japan attacked the U.S. naval base at Pearl Harbor, Hawaii, George was in Guide holding a conference for Christians. Dorothy was left alone with the three younger children. Upon reading in local newspapers that the United States had declared war on Japan, Dorothy's thoughts were of her four older children who were in Japanese-occupied Shandong.[8] Too worried and weary to pray, she tried to go to sleep, but only tossed and turned. That night, God helped her take her mind off the Japanese and to fix it on himself.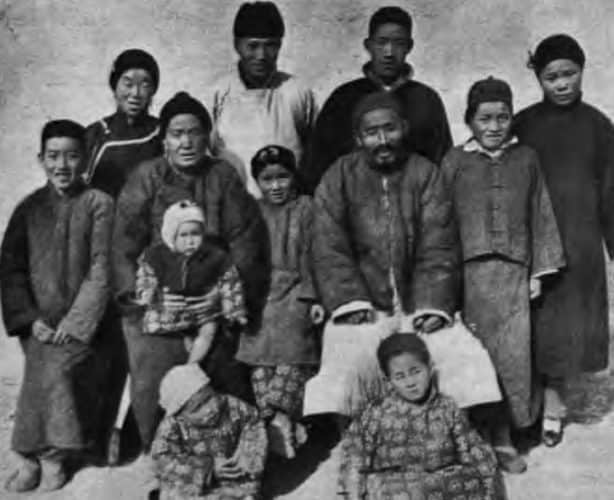 A Christian family at Guide. China's Millions, British edition (January 1933): 12.
He also assured Dorothy that her children were in his hands rather than in the hands of the Japanese. This dispersed all of her burdens and fears, although it did not take away her longing for her children. Reassured with God-given peace, Dorothy was able to accept the news from the mission's headquarters a few days later that her older children had been placed in an internment camp in Weihsien (now known as Weifang), Shandong. Throughout the war, the couple continued to serve in northwestern China. They were able to escape Japanese bombardments with their three younger children, while always on the move with the local people, evacuating and hiding, and sharing their pain and suffering.
Two years had passed when George and Dorothy received the good news that their eldest child Jack had been released from the internment camp as part of the prisoner exchange program and was on his way home from Goa to Canada. This prompted them to discuss their next move. Jack had reached military age and would probably be called up for service. Further, it had been nearly four years since they had last seen him. After much prayer, Dorothy applied for a Leave of Absence from the mission, and returned home with their three younger children. Overcoming many hardships and difficulties during the journey, including traveling through India (Assam, Calcutta, and Bombay), Australia, and the United States, they finally arrived safely in Toronto, Canada seven months later. The family was gradually getting back together. Their ultimate bliss was on the morning when their family of nine reunited shortly after the end of the war. It had been five years and nine months since Dorothy had seen her children who had been interned as prisoners of war, and the assurance that God had given Dorothy that night in 1941 was finally realized.
God's grace guiding them out of China
By 1950, it was becoming increasingly difficult to continue missionary work in China. George and Dorothy, who had travelled from Guide to visit their younger three children[9] in the Chefoo school at Kuling (now Guling) in central China, were informed by the mission's headquarters that everyone in the school must apply for exit permits and leave China. This caused some concern for the government, resulting in many of the teachers and students being called to the police headquarters for questioning. George and Dorothy were asked by the school headmaster to translate during the interviews. Despite moving forward with much fear and trepidation, Dorothy didn't allow herself to be diverted from her purpose by humiliation or intimidation. She remained calm and persevered. Firmly grasping the promises of God, George, Dorothy, and the whole school prayed persistently. Finally, all were allowed to leave.
In March 1951, George and Dorothy were shortlisted as the first party to leave the country, along with fifteen teaching staff and forty children, making a total of fifty-seven. Guling is situated at 1060 meters above sea level in the Lu Mountains. In the midst of late-falling snow and spring rain, they walked or were carried by sedan chair downhill to the foot of the mountain. Then they were loaded onto trucks and driven to KiuKiang (Jiujiang), from whence they travelled to other  cities (Shanghai, Canton, and Shenzhen) by train. To ensure their departure from the country, they were escorted by a Chinese security guard. With divine guidance from God, they were able to overcome one hurdle after another. On the best night of the trip, the whole team had almost five hours' sleep. They also had to walk a mile or so to the railway station in the cold of the early dawn after a hurried breakfast. Under such circumstances, the young children still had to wake up bright and early to start the journey every day—an amazing feat of endurance for all concerned!
At each city they passed through, Dorothy had to fill in the forms for every group member over six years of age. One evening, when their personal security guard saw Dorothy having difficulty in completing the forms in Chinese, he was moved and came to her aid. With his help, it took the two of them just one hour to finish all fifty-three forms.
During the train journey from Jiujiang to Shanghai, the group was crowded into a single compartment, half the size of a carriage where they took turns sitting and standing. When young children wanted to go to the washroom, they had to be passed overhead from one person to another. This became a game and the whole team found it fun. They also sang wholeheartedly until they were hoarse.
Taking a long-distance train trip was daunting for the children, especially when they were scattered in several different carriages. George, Dorothy, and the teachers at the Chefoo School were placed in such a situation when they boarded a train from Shanghai to Canton. As he tried to help everyone to settle, George was reprimanded for moving about. The adults were also prohibited from moving about and telling stories to the children. Nevertheless, none of the children cried. The forty children were surprisingly calm and well behaved.
This "exodus" from China, whilst desperate and miserable, came to its end when they arrived, unscathed, at the Hong Kong side of the Luohu Bridge.
Beautiful footsteps, keeping love alive
"One generation passeth away, and another generation cometh. But the earth abideth forever" (Eccl 1:4), and "The wind goeth toward the south, and turneth about unto the north; it whirleth about continually, and the wind returneth again, according to his circuits" (Eccl 1:6). God's love will not return empty-handed. In the lofty mountains, we can envision George and Dorothy leading a mule, a basket on each side of its back, each basket carrying a child, and George and Dorothy preaching while they walked. Wherever they stopped overnight, they would put up gospel posters and tracts. They were learning the Tibetan language and evangelizing the people. They worked in the tents of the Tibetans, healing the sick, distributing medicine, and supporting Chinese believers and Tibetans in prayer.
Up in the highlands of northwestern China, George and Dorothy buried several of their loved ones. Their feet were planted firmly on the rock of grace. Their lives testified that there was as much grace as there were weaknesses. As Dorothy believed and preached, "No matter what the trials are, God's grace is always sufficient. If I fail to find it so, it's because I did not use it." They had clearly learned the important lesson that the more suffering and pain we endure, the more comfort and support will follow.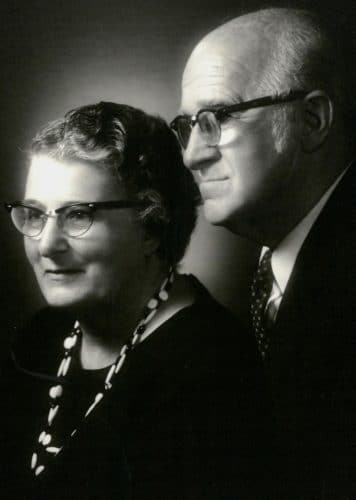 "When preaching the Gospel to two old Tibetans recently, they listened raptly, so much so that when we sang for them the chorus, 'O the love that sought me,' we could not keep back the tears, tears of joy, that Tibetans were actually hearing the love of Christ. These were quiet villagers in a mountain spot and before long we had quite a group gathered, by the addition of a party from another village, to whom we continued preaching."
– George Bell
China's Millions, British edition (January 1944): 27
A NOTE OF THANKS
The information contained in this article is based on Nannie's Story: In Weakness, Strength, the unpublished work by Dorothy Bell. The access to her work was made possible through the generosity of James and Ruth Nyquist, who sent their personal copy to us. We praise God for its safe arrival from the United States. We also thank Ruth for her guidance that allowed us to successfully connect with some descendants of Dorothy Bell. We would also like to acknowledge the assistance of Steve Bell and Dave Zeglinkski for providing the contact details of the three surviving sons of Dorothy Bell. We also thank Steve Bell for providing the two photos of his grandparents for this article. Last but not least, our deepest gratitude goes to George Bell, the oldest surviving son of Dorothy Bell, who on behalf of other siblings—Alfred, Stephen, Edith, and Grace—gave us permission to prepare a short biography of their beloved mother.
Gratitude is also due to Tze Hin for editing the article.
By Zhi Zhi
[1] "Bride-Of-Day Sails Away to Mission Field," Vancouver Daily World (9 February 1924): 15, https://www.newspapers.com/image/64556288/ (accessed 7 February 2021).
[2] "Tibetan Lessons Prepared," China's Millions, North American edition (April 1950): 54.
[3] Dorothy Bell, Nannie's Story: In Weakness, Strength, November 1979, unpublished memoir, 26.
[4] Bell, Nannie's Story, 27.
[5] Bell, Nannie's Story, 26.
[6] Little Dorothy (second child), Betty Mae (sixth child), Robbie (eighth child).
[7] Bell, Nannie's Story, 42.
[8] Jack (first child), Agnes Marjorie (third child), George Donald (fourth child), Edith Joyce (fifth child).
[9] Alfred Clement (seventh child), Gracie (eight child), and Stephen (tenth child).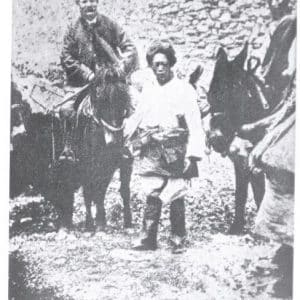 Theo Sorensen: A Pioneering Literature Evangelist in Tibet
Theo Sorensen was the first Protestant missionary to systematically compare the Christian and Buddhist faiths. He communicated these in booklets and established the Tibetan Religious Tract Society in 1918. The number of its publications reached 160,400 by 1922.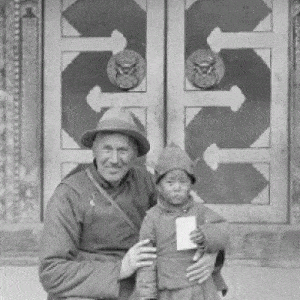 Beloved Highland
In 1935, the BBC interviewed Frank Doggett Learner and listeners were captivated as he introduced them to the Tibetan mission work of the China Inland Mission. Frank and Annie Learner followed the Lord's call to work among the Tibetans in Xining and witnessed God's great power among the Tibetans.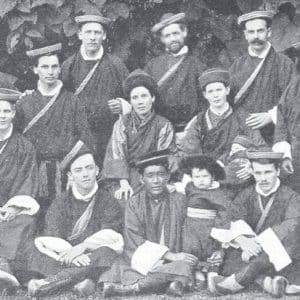 William Soutter—"All he did was in the strength of God"
William Soutter had given himself to mission work to Tibet in 1893. He reached India in 1894 but the door from India into Tibet Proper remained closed. In 1896, he met with Hudson Taylor and joined CIM to take up Tibetan work on the Chinese border.