​​​​​​In picturing popular culture and the good news, I imagine the entry of Christian and Faithful of John Bunyan's Pilgrim's Progress into Vanity Fair. It is unavoidable for those on their way to the Celestial City to pass through that town and that fair. The question for Bunyan was not on how to avoid it, but how to pass through in a Christ-honoring way. In his first part, he records a tragedy with heavenly results. In his second part, when Christiana and her company arrive there, he reveals how the town of Vanity, while no less vain than before, becomes a scene of a rich harvest.
Our writers in this edition of Mission Round Table are those who are passing through their various popular cultures with their eyes and ears wide open and with every intention of revealing their vital faith in Jesus Christ on their way. Those who wish to present the gospel clearly and relevantly must take the time to get to know the popular culture of not only the country where they are residing, but also the segment of society that they are seeking to interact with.
The first three writers show us how this is done. The next two articles look at how culture may impact people's receptivity to the gospel. It is hard to put the words "poor" and "popular" together and yet millions of East Asians experience cultures that are defined by poverty. The last five articles discuss efforts to serve the poor and needy.
Neel F. Roberts , Guest Editor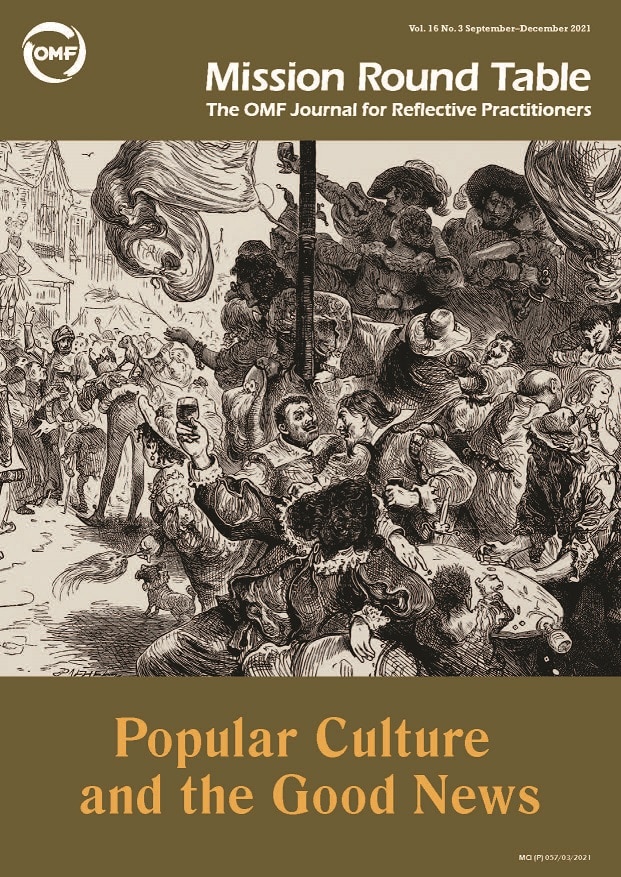 The cover is an edited image of "Christian Enters the Town of Vanity Fair" by F. Barnard in John Bunyan, The Pilgrim's Progress (Philadelphia: John C. Winston, 1890), p.104, via Wikimedia Commons.
Contents
Surprised by Culture: C. S. Lewis and the Redeeming of Popular Culture – Joel C
From Toys to Tools: Reflections on Redeeming Our Screens – Les Taylor ​​​​
Popular Culture and the Gospel amongst University Students in Bangkok – Cherlyn Oh
Ready for the New: How Social Upheaval Shaped a People's Response to the Gospel–A Case Study from Mindanao, Philippines – Wilson McMahon
Seeking God and Growing in Him in My Way: The  The Stories of Two Japanese Christians – Winny Leung
​​​​Promoting Foster Care in Taiwan – David and Ruth Ullstrom
Exploring the Challenges of Partnerships between Foreign Mission Agencies and the Filipino Church – Iljo de Keijzer
Towards Genuine Partnership – Melba Padilla Maggay
Challenges of Partnerships and Some Guiding Principles – Peter Q
Building Relationships for Fruitful Partnerships – Jaap den Butter
Book Review – Christianity in East and Southeast Asia –  reviewed by Wilson McMahon
Book Review – Japanese Perspectives on the Death of Christ – reviewed by Michael Widmer
Book recommendation – Reading Evangelicals: How Christian Fiction Shaped a Culture and a Faith