The past year has forced us to reexamine many of the things in life we take for granted. When we first heard about a virus affecting the city of Wuhan, we didn't know how widely it would spread or that it would also be called novel coronavirus, SARS-CoV-2, and Covid-19. Neither did we realize how it would impact international travel, commuting to work or school, attending church, going out for meals, and visiting family and friends. Many of us found these things impossible, while others could do them, at least for a while. The arrival of something previously unknown brought life-changing consequences to many, and life-shattering or life-ending consequences to hundreds of thousands of others. And while some have become exceedingly diligent, if not paranoid, in washing their hands, wearing masks, and keeping to a proper social distance, others have responded with denial or scoffing or simply disregarding what government authorities and medical professionals have told us to do. But no matter how we feel about it or respond to it, Covid-19 is a life changer.
This issue of Mission Round Table will take up Jesus' eternally-important question, "Who do you say I am?" to show that the answer will greatly impact individuals and societies. It will, in fact, cause many—including long-time Christian believers—to reassess their lives, work, and relationships in the light of the Lord of all life.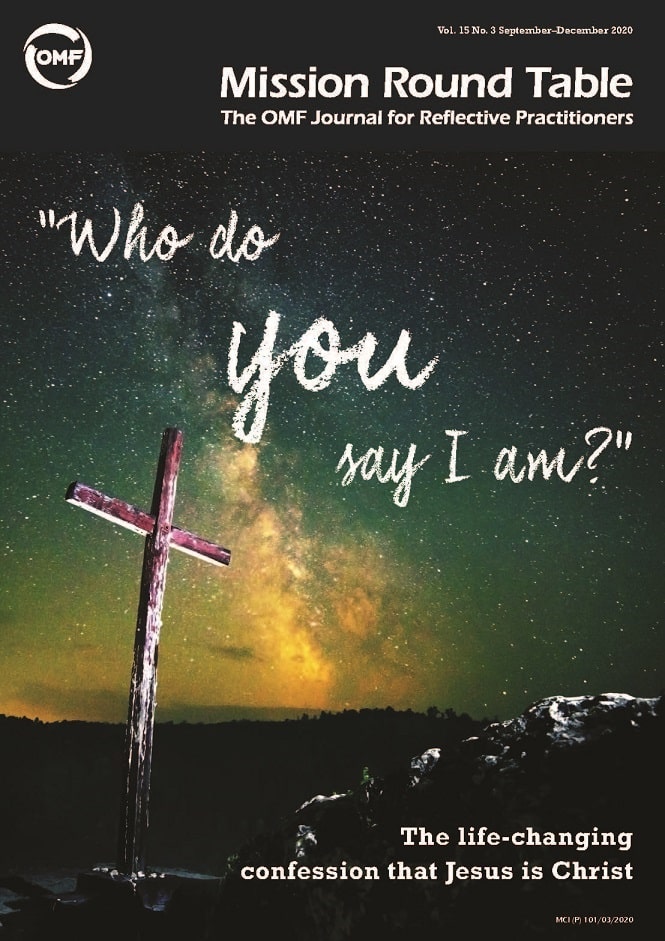 ​ Contents
The Case for Multi-Ethnic Churches in Multi-Cultural Myanmar – Arend van Dorp
Mission to the Shan in Burma (Myanmar)–Lessons We can Learn from the Historical Work –Shona Goodman   An Exploration into the Spatial Impact of Spirituality within Khmer Dwellings – Paul D. C. Robinson   Racism, Mission, and Me: Some Personal Reflections – Dave Andrews
The Language of Lament in Reconciliation and the Global Church – P E
Peter's Declaration "You are the Christ" – Richard Schlitt
Book review – The Missionary-Theologian
Book review – Scatter: Go Therefore and Take Your Job with You
Book review – Canon, Covenant and Christology
The cover has text added to a cropped image of a wooden cross in the Saharna landscape reserve, Moldova by Botnari Stefan, CC BY-SA 4.0 <https://creativecommons.org/licenses/by-sa/4.0>, via Wikimedia Commons.