"I will make you as a light for the nations, that my salvation may reach to the end of the earth." Isaiah 49:6
In the first verse of the book of Acts, Dr. Luke reminded Theophilus that he had written his previous book—his Gospel— to record "that which Jesus began to do and to teach." Though unstated, his purpose for this second book was to record that which Jesus continued to do and teach through his apostles. Their job was not to speculate about when Jesus might restore the kingdom to Israel, but to wait for the Spirit to empower them so that "you will be my witnesses, not only in Jerusalem, but also in all of Judea and Samaria and to the ends of the earth" (Acts 1:8).
But Luke's second account does not conclude with the work Jesus began to do and teach being completed; "the ends of the earth" was not reached when Paul arrived in Rome. Each generation of Christians must receive power from the Spirit and bear witness of Jesus. The desire to see the story of Jesus proclaimed throughout the world lies behind this issue of Mission Round Table. All but the opening article were originally produced for the June 2019 OMF Mission Research Consultation that focused on sharing the gospel.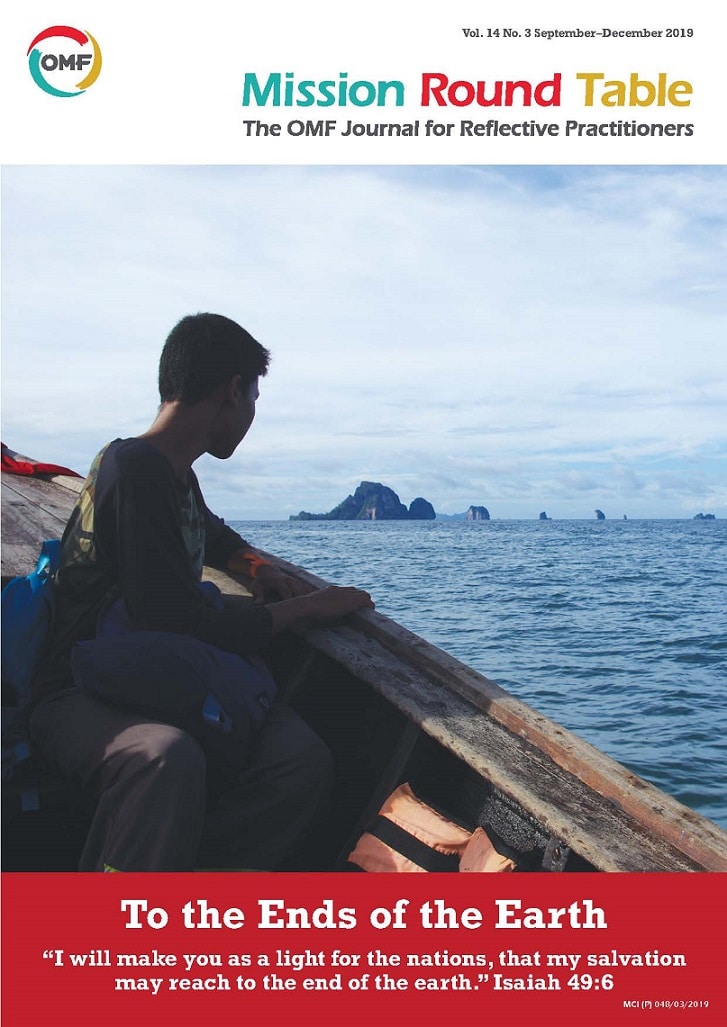 Contents
How Indigenous Are the OMF Asian Home Councils? Tracing the History of their Establishment – Koyuki Sami
One Kingdom Theology as a Paradigm for Gospel Ministry: A Commendation of the Thoughts of J. H. Bavinck – Song Tsai
God's Mission, the Messianic Kingdom, and the Calling of the Church – Michael Widmer
The Gospel and the Cross-Cultural Gospel Messengers: Issues of Identity and Platform in Bringing the Good News – Ian C. H. Prescott
The Gospel Expressed Through Ritual Materiality for Discipleship in the Context of Thai Folk Buddhism – Samuel Lim
Let the Gospel Enter the Heart Underneath the Kimono – Ricky and Winny Leung
An extract "Plan of the Operation of the China Inland Mission" from China's Millions (April 1877)
Book review – A Foot Wide on the Edge of Nowhere: Olive & Theo Simpkin – Sharing the Good News in China.
Book review – Canoeing the Mountains: Christian Leadership in Uncharted Territory.