"This happened so that the work of God might be displayed in his life."
The Gospel of Matthew introduces the person and work of Jesus by summarizing his preaching and healing roles and how people came to be healed. Later, Jesus passed these ministries on to his apostles whom he charged to "Heal the sick, raise the dead, cleanse lepers, cast out demons" (Matt 10:8).
God's servants have always reached out to others in word and deed. Indeed, God has used many who were sick and became well—like the man freed from demons who Jesus commanded to "Return to your home, and declare how much God has done for you" (Luke 8:39)—and others who served despite their sickness—like Paul, with his thorn in the flesh. Gospel ministry has always been to, with, and by people with various disabilities.
A remarkable case in point is one of the first recruits to the China Inland Mission. George Stott was a Scotsman who came to faith at 21 while recuperating from an operation to remove his leg. After working for several years as a teacher, Stott heard about the needs of China and determined to go. When asked how he could do this on one leg, he replied: "I do not see those with two legs going, so I must." Stott was the first Protestant missionary to work in Wenzhou, a city that now traces its large, vibrant church to this one-legged saint.
Most of the articles in this issue follow in George Stott's shadow by introducing us to missionaries who have been faithful in ministry despite their handicaps.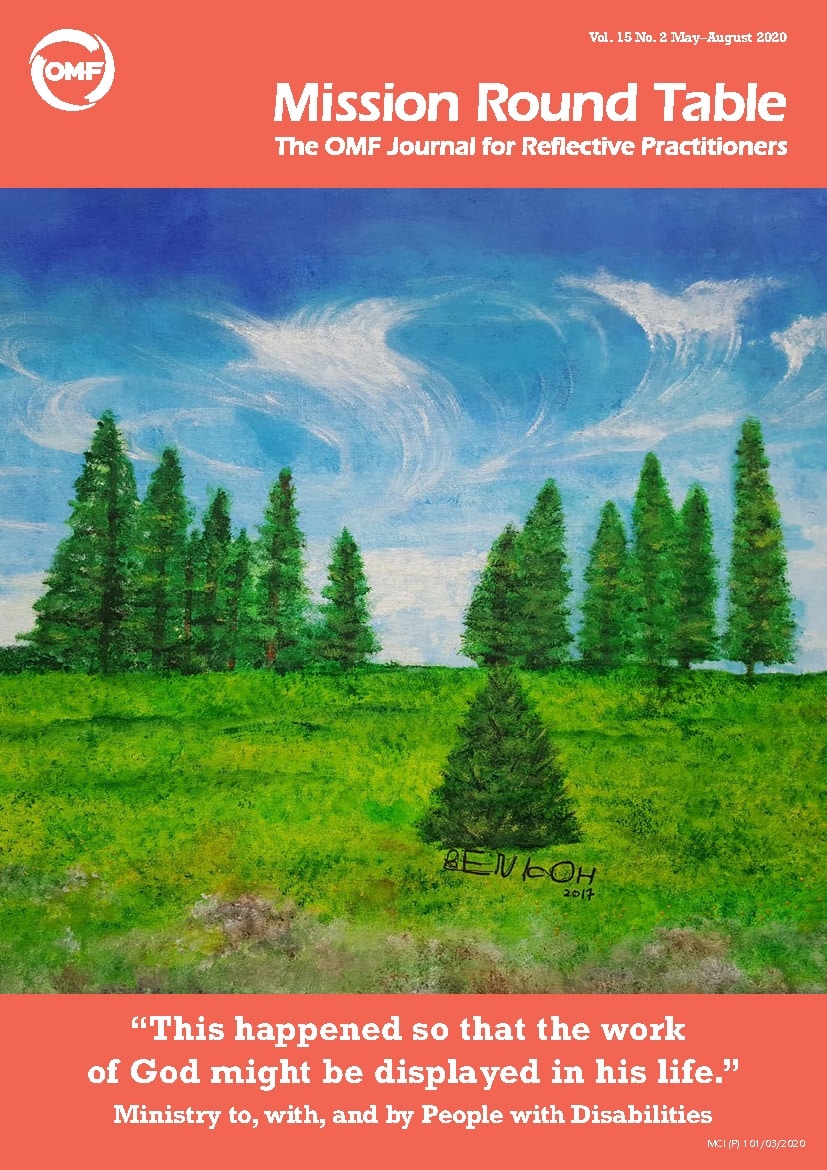 Contents
On Human Rights and Identity Politics: How Disability Challenges our Missiology – Lightyear
Viewing Disabilities from the Perspectives of Chinese Culture and Christian Belief – Yea-Hui Wang
Interview with Yea-Hui Wang – David Eastwood
Following in God's way by Foot or by Chair – Walter McConnell and David Pickard
MRT Café and Education Ministry for People with Special Needs – Joyous and Hopeful
Fish out of Water – Erin Amaris Hendrikse
"He has delivered my soul in peace"—The Life and Ministry of Allison Butler – "Marjorie (Butler) Keeble
A Personal Reflection on Experiences of Race and Racism – Nathaniel Jennings
The God of Covenant Love – David Ellis
Fix your eyes on Jesus – Claire McConnell
Book review – The Story Retold: A Biblical-Theological Introduction to the New Testament
Book review – Asian Christian Theology: Evangelical Perspectives
The cover image is a painting of trees by Benjamin Koh Chong Jin © 2017. To learn more about Ben, see page 10 . To see more of Ben's artwork, visit https://www.facebook.com/BenKoh.ArtJourney/ or contact his father Harold at haroldkhkoh@gmail.com.