The gospel is good news. In fact, it's great news. It is the wonderful story that tells how the God who created the heavens and the earth intervened so that people who had been separated from him by sin could be restored to a living relationship with God by believing that his Son Jesus Christ died as a sacrifice in their place. But though it is good news, the euangelion has a dark side. There is bad news in the good news.
The difficult side of the gospel was experienced by the Apostle Paul who, in addition to being imprisoned, beaten, whipped, and shipwrecked, set out on journeys resulting "in dangers from rivers, danger from robbers, danger from my own people, danger from Gentiles, danger in the city, danger in the wilderness, danger at sea, danger from false brothers" along with "the daily pressure on me of my anxiety for all the churches" (2 Cor 11:23–28). Clearly, gospel ministry can be a lot tougher than most of us desire. The Bible and church history let us know that many Christian witnesses were killed for their faith. This "bad side" of the gospel is brought to light in the article on William Fleming—the first CIM martyr.
Not everyone who shares the good news about Jesus faces death, imprisonment, or beatings. Even so, many, as Andy Smith's research indicates, find sharing the gospel to be a scary experience for any number of reasons. Karl Dahlfred insightfully addresses the sad reality that many animists who say the prayer fall away from the faith. By explaining how and when this tool developed, he shows why it may be best for us to leave it out of our toolbox.
If we work through the issues we face biblically and theologically, the bad news of the good news will not disappear, but it will certainly change form, as it will stem from the very nature of the gospel rather than the actions of those who proclaim it.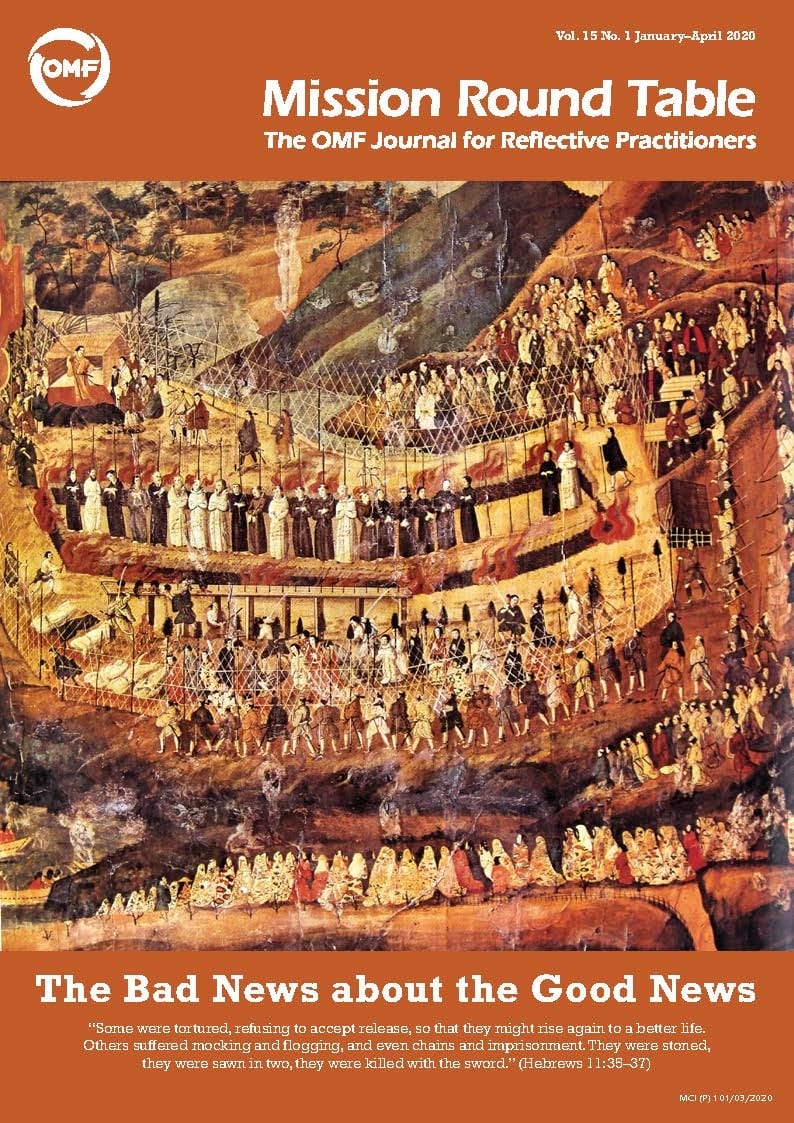 The cover image is a painting by an unknown Japanese recording the death of the Nagasaki martyrs (5 February 1597). Jesuit missionaries began a work in Japan in the 1540s that resulted in a church of perhaps 100,000–300,000. By 1614 Christianity was officially banned. From 1597, persecution swept over the church resulting in many deaths and forcing the remaining members to disappear underground.
Contents
The Sinner's Prayer in Animistic Cultures: Problems and Solutions – Karl Dahlfred
Culture, the Bible, and the "Honor-Shame" Gospel – Walter McConnell
William Fleming—"Gospel Shark": The First CIM Martyr – Sylvia Yuan
A. J. Broomhall: A Missiological Practitioner – Neel Roberts
Fear in Sharing the Good News – Andy Smith
An Interview with Scott Callaham about "World Mission: Theology, Strategy, and Current Issues"