Ratanakiri Province in north-east Cambodia is home to three ethnic minority hill tribes, the Jarai, Krung/Brao, and Tampuan, who first heard the gospel from missionaries in the 1990s. Scripture tells us to 'Go and make disciples of all nations….' These disciples are to be formed into churches shepherded by local pastor-elders who would 'teach them to obey everything [Christ] commanded.' In 1999, a missionary from the Evangelical Mission to the Unreached (EMU) began an informal Bible school in Ratanakiri for house church leaders. That first year they met for a block class and continued to meet two times a year from then on.
Growing the teaching team
In 2001, missionaries from OMF, BFWE, and CMA joined the teaching team. These like-minded organizations held both theological agreement (such as the inspiration and power of Scripture) as well as methodological agreement (such as indigenous church planting and narrative, creation-to-Christ teaching), which allowed for a Bible School partnership to form. The core curriculum consisted of Firm Foundations (Creation to Christ Bible Story telling), Acts, Matthew, 1 & 2 Timothy, Titus, 1 Corinthians, Romans and other books of the Bible.
All of the partners were convinced that the Bible school had to be able to be reproduced by Cambodian Christians. So from the beginning, students were required to pay a small tuition fee or rice (which went toward meals) and provide their own transportation. Some traveled up to 50 km by bicycle and motorbike. The venue was usually a local church building with no rental cost. Local Christians housed students free of charge.
Most of the believers had little formal education and many were functionally illiterate. We decided that verse-by-verse expositional Bible teaching was the easiest way for them to learn to teach their churches. For many years missionaries modeled how to teach in this way, and students practice-taught the lessons to one another during the trainings, and to teach what they had learned in their churches.
The missionaries provided written lessons in Khmer for the pastors-elders that were trained on site in Ratanakiri, either translated from appropriate sources (Firm Foundations by Trevor McIlwain) or developed by the missionaries to fit the setting (Matthew and Romans lessons by JD Crowley). Eventually the lessons began to be translated into the three main indigenous languages of Ratanakiri.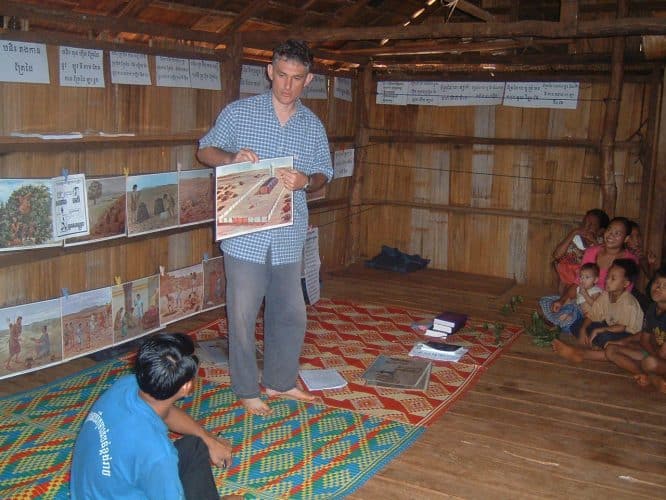 Taught to teach others
In 2005, missionaries encouraged the church leaders to start Bible schools for their own church members. Initially this was attempted in the national language of Khmer and they struggled to prepare and teach lessons. The next year they were encouraged to teach in their indigenous languages, and this was more successful.
From 2005-2012, while the Khmer-language, province-wide Bible school continued twice a year, the three indigenous language schools were reaching around 180 students. However, the main impetus continued to come from the missionaries. By this time some missionaries had also learned the indigenous languages.
Between sessions, missionaries also visited emerging church leaders in their villages on a weekly basis, developing close relationships with leaders and their families. Through those relationships missionaries offered one-on-one encouragement, advice, and correction, as well as small group teaching. This ongoing relationship of discipling allowed for missionaries to develop church leaders of Christian character according to 1 Timothy 3 and Titus.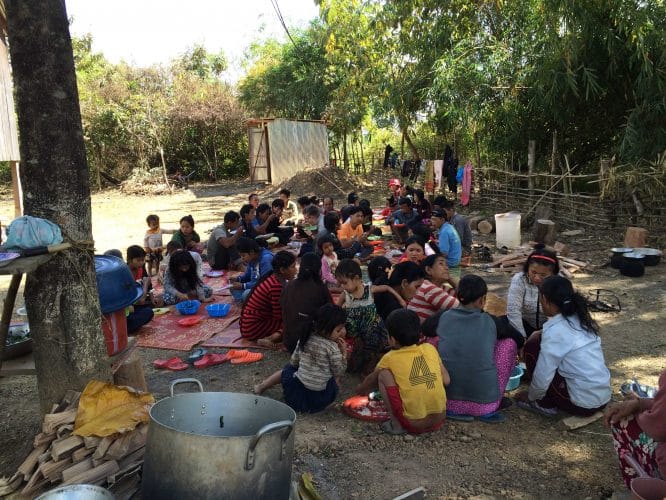 Growing independence
In 2013, about 15 years after the initial Bible training began, local leaders were challenged to run their indigenous language Bible schools completely on their own. Beginning in 2014, Krung, Tampuan and Jarai churches, as well as local Khmer, successfully organized, taught, and financed their own Bible schools. Because the students were already used to paying a significant portion of the costs from the beginning, they were able to take care of their own finances without missionary help.
With the basic curriculum being taught by local church leaders, a committee of missionaries from EMU, CMA, OMF, NTM, and other organizations met in 2016 to form Ratanakiri Pastors Institute, a Bible college level program in the Khmer language for church leaders, with the motto "Theology for Worship." It began with 65 pastor-elders, Bible translators, and women's group teachers. The Pastors Institute is taught and organized entirely by missionaries, along with some visiting Cambodian faculty from CMA and FCC churches. After completion, a student will earn the equivalent of an Associates Degree at a Bible college. As of May of 2019, this new program will have completed its first "semester" of five classes, or one-fourth of the way to the 10-year graduation.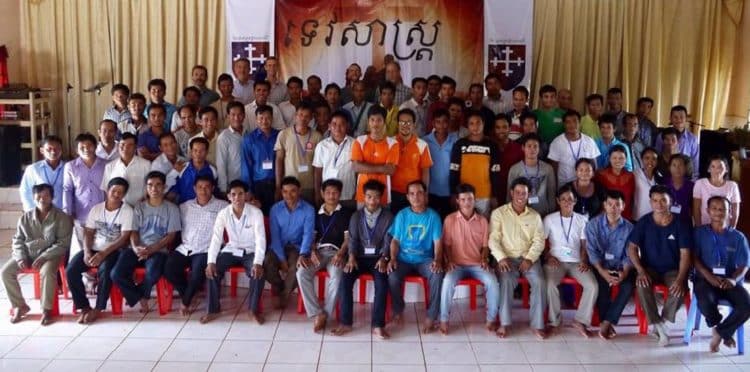 Above: Pastor's Institute group photo, 2017.
Please pray that:
God would raise up pastor-elders in churches in Ratanakiri who understand and love God's word and teach it clearly under the power of the Holy Spirit.
God would continue to give the missionary community in Ratanakiri a partnership that blesses the local churches.