"Wang Lae-djün [was] one of China's great, if unsung, Christians. . . . After Pastor Hsi (Xi) Shengmo of Shansi he was perhaps the most notable Chinese connected with the China Inland Mission."[1] His faithful work as pastor, evangelist, and church leader laid strong foundations for the early churches in Ningpo, Hangzhou, and their surrounding areas in Zhejiang. What shaped Wang to become such a prominent leader? Read on to find out.
Wang Lae-djün—A Man after God's Heart
Marion Osgood
Marion works part-time as archivist in OMF's UK office.
Read the Chinese version of this blog post – 八千里路雲和月—戴德生與王來全
A strange sight drew curious eyes in London's fashionable Bayswater, one cold November morning in 1860. A well-built Oriental gentleman carrying a toddler was walking slowly down the street, accompanied by what appeared to be his European wife. The pregnant wife and the toddler were in decidedly outmoded Western dress. Behind them came a shorter, sickly-looking man—a servant no doubt—in scruffy Chinese attire.
Wang Lae-djün (Wang Laiquan) had had the dubious privilege of leaving wife, family, and country—everything he had ever known—to travel from China to England with Hudson Taylor (the sickly-looking man!) and Maria. This had come about through the strong brotherly bond between the two men. Hudson Taylor knew the future of the church in China depended on just such local individuals. They would need nurturing and equipping, but eventually, he was in no doubt, they would take full responsibility. He saw that Chinese churches, under God, must be entirely in their own hands.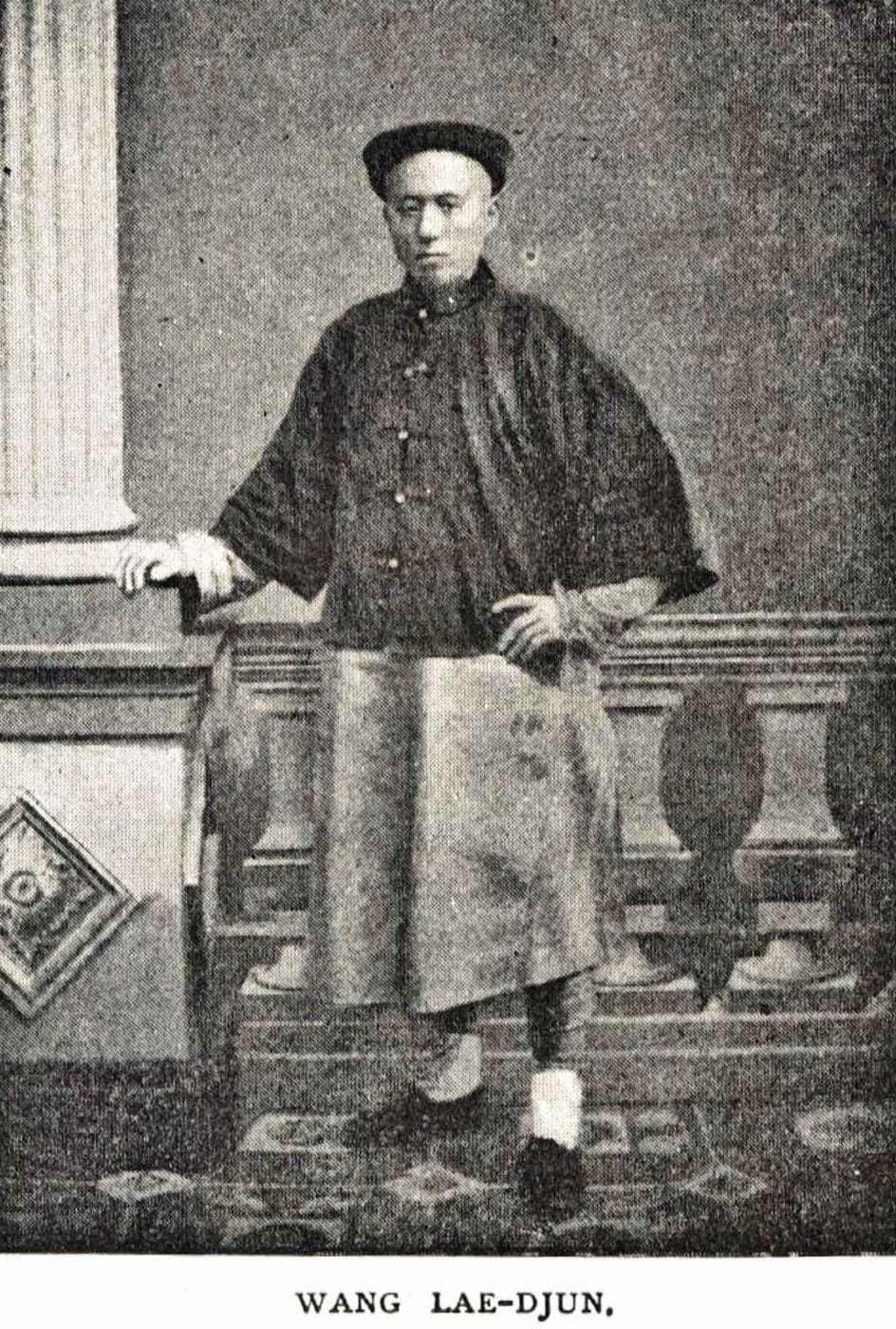 ​​​​​​​Wang's interest in the gospel had been first aroused in the course of his work as a painter and interior decorator in Ningpo, his home town. He was up on a ladder working when he overheard the lady of the house requesting incense containers from the one-time supplier—Feng Neng-gui—who explained that he no longer produced them as he was a Christian! Wang's curiosity and spiritual hunger awakened, he began to meet with Hudson Taylor to learn more. He was baptised on 8 May 1859.
Not long after this, the Taylors began to make plans to return home, as much as anything for the sake of Hudson Taylor's health. If Wang Lae-djün came too, Hudson Taylor surmised, he could continue to disciple him during the long journey. Furthermore, while in London, Wang would be the best possible language teacher for new recruits for missionary work in China. But there was another plan. As many Chinese were illiterate, Hudson Taylor had begun to compose a written form of the Ningbo dialect using the Latin alphabet, which he (and in time Wang) could comparatively easily teach others to read. The next stage was the mammoth task of translating the entire New Testament into this colloquial written form. Wang's familiarity with the dialect would be invaluable.
But meanwhile, there was the long voyage to England by sea. Wang helped to care for little Grace Taylor as Hudson and Maria were far from well. He also had to take responsibility for the goats—the family's source of fresh milk—throughout the voyage. When Grace slept, and the parents were well enough, Wang joined them in fervent prayer for the work in China and the need for more workers. Sweet times of fellowship together confirmed to Hudson Taylor that Wang was indeed a man after his own heart.
After an initial stay with the Bayswater relatives, the Taylors rented a house in the East End of London. Wang, a willing and loyal worker, remained with them, turning his hand to cooking and laundry. In return, he was treated as one of the family. At Christmas, he accompanied them to Yorkshire to stay with Hudson Taylor's parents. He went with them to see the Great Exhibition, now permanently erected at "Crystal Palace", and joined others lining the streets of London when Alexandra of Denmark arrived to wed Edward, Prince of Wales.
In 1863 ,  Wang's planned return to China was imminent. Although remittances had faithfully been sent to support his wife and child, nevertheless they needed him . But  so did Hudson Taylor! There was now no time to lose, so Wang — the future church leader, the missionary to his own people — responded with great diligence . He followed  the increasingly demanding time-table of Hudson Taylor ,  whose own capacity for work, even when tired and unwell, seemed almost boundless. With fresh urgency ,  the translation work continued late into the night, and pharmacology, even anatomy dissections, were added to Wang's educational repertoire. As the time for his departure drew even closer, the already full medical and theological training schedule grew ever more demanding.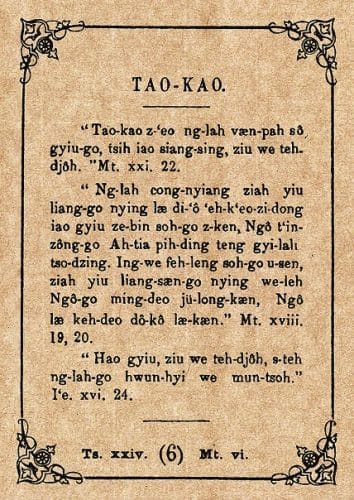 Biblical text on prayer in Ningbo dialect
There were final visits to Guy's Hospital Museum, the Houses of Parliament, Spurgeon's Metropolitan Tabernacle, Westminster Abbey, and one last trip to George Müller in Bristol, before Wang finally departed via Gravesend on 2 June 1864.
Back in Ningpo and without Hudson Taylor, but now with his wife by his side, Wang shepherded the flock wisely. Not long after, he took charge of the church in Hangzhou and cared for a whole network of new churches within a hundred-mile radius—a ministry he engaged in faithfully for forty years. Typical of Hudson Taylor's principled desires that the Chinese church be independent of foreign aid, Wang's churches looked elsewhere for their financial needs.
Hudson Taylor invested heavily in Wang Lae-djün, and he in turn was all that Hudson Taylor could have hoped for in his earliest converts. Throughout their close and loving brotherly friendship, Hudson Taylor recognised that this investment, by God's grace, would produce not only a strong and mature believer, but would yield heavenly returns in the lives of countless others.
__________________________________________________
This article is an edited version of the article "A Faithful Investment" published in Billions Jan–April 2015, https://billions.omf.org/a-faithful-investment/.
A Chinese version of the article "八千里路雲和月: 戴德生與王來全" was published in 萬族萬民 (East Asia Millions Chinese) 2015 no. 86. A PDF copy of this 2015 edition can be downloaded from here.
[1] A. J. Broomhall, Part III  If I had a Thousand Lives, The Shaping of Modern China: Hudson's Taylor Life & Legacy, volume 2 (Piquant and OMF: 2005),  468.