This article examines the prayer life of Dixon E. Hoste, the second General Director of the CIM. It highlights the important lesson that prayer is not something to talk about, but to do. Though Hoste at times confessed his struggles with prayer, in the end, it was his prayerfulness that helped him gain and maintain the confidence of CIM members through his long years of leadership.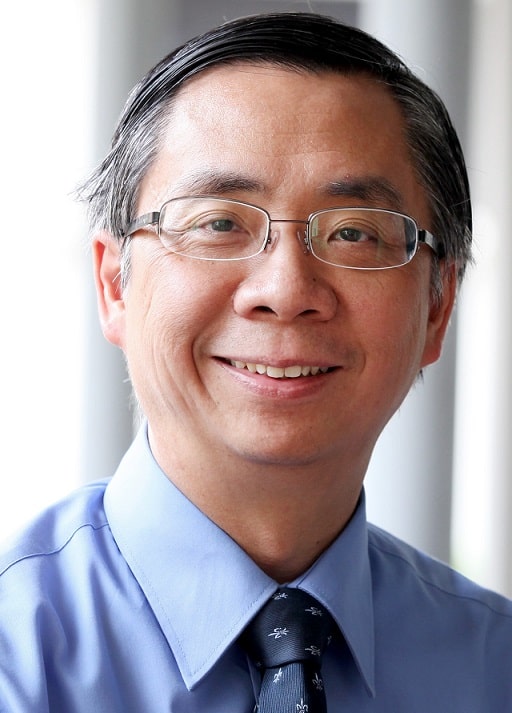 Patrick Fung
Dr. Patrick Fung is the General Director of OMF International. He and his wife, Jennie, previously served as medical missionaries in South Asia. Patrick is actively involved in teaching and preaching ministry. He is currently a member of the Board of Directors of the Lausanne Movement and a member of the International Council of the Langham Partnership International (John Stott Ministries).
Dixon E. Hoste and Prayer
Mission Round Table Vol. 16 No. 2 (May-Aug 2021): 4-10
At the disposal of others
On 13 June 1931, during one of the regular China Council meetings, without much warning, Dixon E. Hoste, the General Director of the China Inland Mission (CIM) at that time, vacated himself as Chair and handed the role to George W. Gibb, the China Director. Hoste requested Gibb to read out the letter, which he had prepared, to the China Council members on his behalf.
My wife and I feel that having regard to our age, we should place ourselves at the disposal of the Directors and Councils of the Mission, in China and in the three Home countries, with a view to our retirement. After prayer and thought in the light of conversations with colleagues, I do not feel able to offer any suggestion as to arrangements following upon my laying down my office; but I shall continue in prayer that guidance may be granted to those concerned. I cannot close without offering you my sincere thanks for your goodness to me since in March 1901, I became acting General Director. Your fellowship and co-operation have been valued more than I can say.[1]
Hoste had already been in leadership for over three decades. Looking back at his role, he wrote:
Perhaps the most important, and in some ways the most difficult part of a General Director's functions lies in the exercise of helpful influence on the minds and so on the work of important colleagues. For such a purpose he needs indeed to "speak as the oracles of God," which, as I think we shall agree, involves a holy fear and trembling as to his own state of heart before God and in relation to his brethren. Unless he is constantly and faithfully wrestling in the heavenlies with the powers of darkness, there is real danger of him becoming involved in wrestling with his colleagues.[2]
If there is one thing that colleagues keenly remembered about Hoste, it was his prayer life. "Patient, persevering prayer," wrote Hoste, "plays a more vital and practical part in the development of the Mission's work than most people have any idea of."[3] Hoste did not talk much about prayer, or formulate a philosophy of prayer, or analyse its effects. Hoste prayed.
It was because of his prayerfulness, more than any other quality, that he gained and maintained the confidence of the members of the Mission throughout his thirty-five years of leadership. Bishop Frank Houghton wrote that "While Mr. Hoste, being human, was not immune from errors of judgment, yet criticism was silenced, dissatisfaction found no room to grow or spread, because our General Director was a man who spent much time with God."[4]
Talking to God
Dixon Edward Hoste was born on 23 July 1861, four years before the founding of the CIM. Both his father and his grandfather were military men, the former a Major General in the Royal Artillery and the latter a Colonel. It is therefore not surprising that Hoste, from his youth, learned the value of "military precision."
When he was seventeen, Hoste entered the Royal Military Academy at Woolwich. At eighteen, he received his commission as a lieutenant to serve in his father's regiment, the Royal Artillery. In 1882, Hoste was invited by his elder brother, William, to attend a special meeting in Brighton where the speaker was the American evangelist, D. L. Moody. Stepping into the middle of the platform, Moody quietly said, "Let us pray." When Moody prayed, "never before had D. E. Hoste heard such a prayer. Moody talked to God. He talked as though God was there, as though he knew Him, as a man talks to a friend. He talked as though God could be depended upon to do His work in men's hearts, right then and there."[5] Hoste was converted at the meeting. Moody's prayer left a deep impression upon him that shaped his own prayer life over the next forty years.
It did not take long before Hoste came across Hudson Taylor's little book: China: Its Spiritual Need and Claims. Hoste was captured by these words:
Were all the subjects of the court of Pekin marshalled in single rank and file, allowing one yard between man and man, they would encircle the globe more than ten times at its Equator. Were they to march past the spectator at the rate of thirty miles a day, they would move on and on, day after day, week after week, month after month; and more than twenty-three and a half years would elapse before the last individual had passed by…. Four hundred millions of souls, "having no hope, and without God in the world!"[6]
In response, Hoste wrote to the London Office of the CIM in 1883 and offered himself to be a candidate.
However, the reference letter from W. T. Storrs, the vicar of Sandown, Isle of Wight, was not totally encouraging. Storrs characterized Hoste as naturally shy, a little impulsive, having just some ability to learn, not able to teach well, not very enterprising, and not fitted for missionary work, with a disclaimer "but I may be mistaken."[7]
While the clergyman wasn't very familiar with Hoste, members of the London Council took note of the spiritual stature of this quiet young man. He was clearly humble and sincere and, even in his youth, demonstrated balanced judgment and foresight. Though he was not particularly strong, the doctor's report that he was healthy assured the Council that he would be able to endure physical hardship and privation. In the end, he was accepted as a "probationer" to join the CIM.
Wandering in prayer
As a young man, Hoste admitted facing struggles in prayer. Like others, he tended to wander in his mind when he prayed. On one occasion, after he was already serving in China, he wrote to Hudson Taylor seeking his advice.
I do long to be more godly. It seems so sad that the heart should wander from God and want other things. As this is a private and personal letter I want to ask your prayer and advice as to what is to me a great source of distress and perplexity in my inner life. I find that in prayer wandering thoughts come in, and then in confessing them, often more wandering thoughts come, and in this way often quite a considerable time will be taken up in a desperate struggle to get clear of the various thoughts and fix the heart and mind in an unwavering concentration on God. You can understand how exhausting this is for one's head; and really now by the time one has been able to pray believingly for them all, one's head is often throbbing, and one is quite wearied. When I see how many are, owing to neglect of private prayer, gross and heavy and more or less blind, I dare not give it up.[8]
Hudson Taylor wrote back to this young missionary with a reassuring note: "Regarding a wandering mind in prayer; I have found more help in praying aloud, and praying while walking about—talking as to a present Lord—than in any other way…. I do not think that wandering in thought at all necessarily indicates a loss of spiritual life."[9] These words from a veteran missionary to a younger colleague were undoubtedly of great comfort.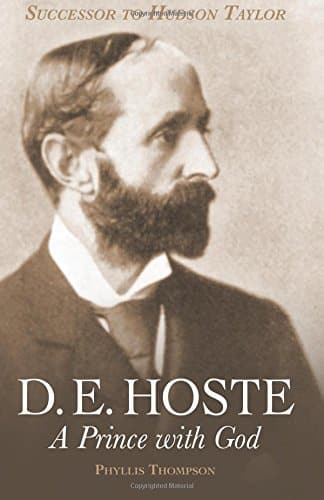 With Taylor's words of encouragement, Hoste developed a habit of walking while praying aloud that he continued even after he became the General Director. As Thompson records, "In the midst of his intercessions" at the Shanghai CIM Headquarters, he would often
suddenly stop, cross to his desk and make a note or two about something that had occurred to him, and then continue walking about, praying. After such a pause, however, he would occasionally turn to whoever was with him and ask, "Where had I got to?" When a mid-morning cup of tea or cocoa was brought to him, he would courteously accept it, and as likely as not pour half of it into the saucer, hand it to his companion with a murmured apology, and go on praying, taking occasional sips from his cup meanwhile! Prayer to him was as natural as a child talking to a father whose perfect love had cast out all fear.[10]
Lowly in spirit
Hoste sailed to China as one of the Cambridge Band—later known as the Cambridge Seven—that rose from "comparative obscurity to an almost embarrassing prominence in 1885."[11] All seven bright young men were sent to China under the banner of the CIM. Among the seven, Stanley Smith was probably the most prominent. Smith, a star athlete in the university, was most famous for being the captain of his college boats. He was also a natural public speaker. Hoste, by contrast, was unassuming and quiet, feeling rather comfortable to be in the background. Besides, his thin, high-pitched voice and somewhat hesitant manner made his speech less effective.[12] Both Smith and Hoste were sent to work under Pastor Hsi in Shanxi—a strong, charismatic Chinese leader who ran opium refuges for the opium addicts.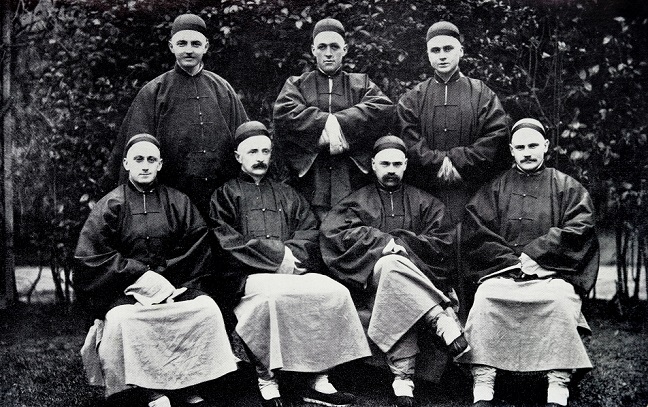 The Cambridge Seven upon arrival in China in 1885. Back row (from leftft): C. T. Studd, M. Beauchamp, S. P. Smith. Front row: A. T. Polhill, D. E. Hoste, C. H. Polhill, W. W. Cassels.
About a year and a half after Hoste's arrival in China, he was asked by Smith to join him in a newly opened station in Hungtung (Hongtong today), Shanxi, to which he had been appointed.[13] As they had been sent out to China at the same time, Hoste did not feel prepared to accept this arrangement. "When he put the matter thus bluntly to me, I was ruffled in my spirit."[14] However, subsequently, it was impressed upon Hoste's conscience that his refusal was not due to a pure desire for God's will and glory, but rather an unwillingness to humble himself and take the low place. "The difficulty was in my own heart. It was impressed upon me that unwillingness persisted in would mean my having to part company with the Lord Jesus Christ, who dwells with the humble ones, those who willingly go down."[15] Hoste reflected on this matter prayerfully and recognized that Smith was better qualified than himself for the leadership. His gifts as a speaker, his resourcefulness and quickness in current affairs, and his brightness of personality were all superior to his own. In the end, Hoste told Smith that he was prepared to accept his proposal.
Looking back into this matter in 1940, when Hoste was well over seventy years of age, he wrote:
Relationships with fellow-workers and others with whom we are closely associated can sometimes only be perfected in the sight of God through the working of death to self, as we learn to accommodate ourselves to their personalities and preferences, thus rendering it possible for the Lord to fit us together in His service. We do well to bear in mind He is Head over all. All He wants, therefore, is someone who is poor in spirit, who lets his standing and rights go rather than strive; through whom He can work to will and to do His good pleasure.[16]
In a separate letter, Hoste wrote that we need to be "men and women of prayer, deeply distrustful of our own judgment and impulses, only forming opinions and expressing them as taught and guided by the Holy Spirit."[17]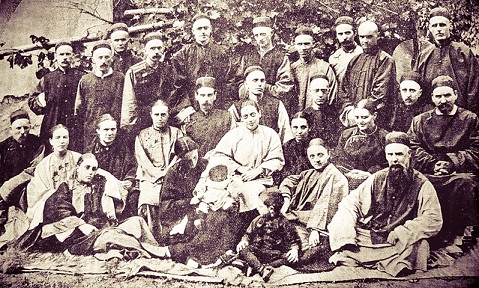 Hoste (last row, fourth from leftft) and his wife (front row, second from right) with other Shanxi workers in 1890.
Leadership in a time of crisis
The CIM faced one of its most severe crises in 1900 during the Boxer Incident. Fifty-eight CIM missionaries along with twenty-one children were killed. Taylor was unwell and realized that he could not provide leadership at such a critical time as he was far too weak. Even his wife Jennie dared not show him all the letters from China, fearing that they could prove to be too much for him. Before the Boxer Uprising, William Cooper was perceived to be a promising younger CIM colleague who could succeed Hudson Taylor. However, Cooper was killed during the Boxer Incident, and his body only found many months later. Taylor knew that he needed someone urgently to take on leadership, someone who understood the China situation well. Stevenson was the China Director at that time. But, Taylor approached Hoste instead, even though he was a much younger and comparatively less experienced person than Stevenson. Though Hoste had served in China since 1885, his work was mainly confined to Shanxi under Pastor Hsi and he had little exposure to the wider work of the CIM.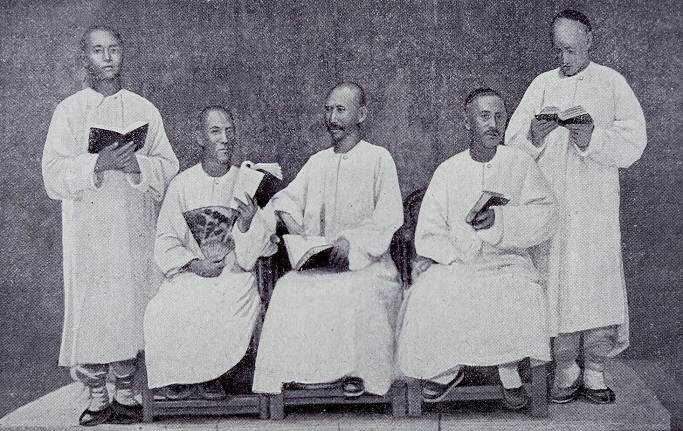 Pastor Hsi (center) and Hungtung church elders
Thus, when Hoste received the letter via cable from Hudson Taylor, he almost straightaway declined the appointment by telegram. Hoste wrote:
Effects of an opposite and very grave character, which both Mr Stevenson and myself agree in thinking most likely (would) follow such an appointment … It would have the effect of weakening and, to a certain extent discrediting Mr Stevenson … without inspiring confidence. (Stevenson had done well in his direction of affairs in the crisis, members of the China Council were agreed.) … My appointment to act now on your behalf (during your present incapacity) would come as a complete surprise, and is one to which they would not agree, and … would be calculated to weaken and even produce disruption in the Mission … PS. I have not touched on the point of my own unfitness, mental and physical …[18]
Soon after Hoste wrote, he went down with a life-threatening illness. After nearly four months of wrestling in prayer while unwell, Hoste finally wrote to Stevenson, his supervisor: "I feel I ought to accept the appointment; if, however, you do not see your way to agreeing . . . I shall [be] free from responsibility."[19] But Stevenson readily agreed, and called Hoste into his office and, with tears in his eyes, told him that the Lord had given him not only peace about it but also joy in the assurance that it was of God and would be for blessing. In January 1901, Hudson Taylor confirmed the appointment of Hoste as the Acting General Director of the CIM.
One of Hoste's major contributions in handling the Boxer crisis was the decision that the CIM would not accept any compensation from the Chinese government even if offered. In February 1901, the China's Millions published the following in accordance with Hoste's decision:
it will be well for missionaries to take a more Christ-like course; and even gladly to suffer the loss of all things, that the gospel be not hindered. Our own Mission has decided to make no claim whatever, either for life or property, and has assumed the responsibility of the orphan children of the martyred Missionaries.[20]
A little man to sort of steer
Even when working under Pastor Hsi in Shanxi for ten years, Hoste recognized Hsi's leadership. "Pastor Hsi was perfectly well able to stroke the boat, and he had got plenty of men to pull behind him. What was wanted was a little man to sort of steer," Hoste said.[21] Anyone who was to steer under someone like Hsi—who was known for his dominating personality and quick temper—required a great deal of patience and humility. Hoste, however, was willing to support Hsi and follow his leadership, even when others in the CIM disagreed. Hoste considered himself to be the little man who could "sort of steer" quietly from the back. He never sought to be in the limelight, but, to the contrary, did his best to avoid it.
After the Boxer Incident, Hoste wrote an article titled "Possible Changes and Developments in the Native Churches Arising out of the Present Crisis."[22] Instead of focusing on the suffering of the missionary community due to the Boxer Incident, Hoste emphasized the future of the Chinese church, believing that the Chinese church could only mature without the control of foreign missionaries. His article insisted that the only authority the missionaries should display is of a spiritual nature, and even there only as guides and exemplars. At all cost, they should seek to avoid dependency.
Nearly five years after he took the helm of the CIM, Hoste gave a public address to his colleagues. The transcription records that he said:
Now, may I ask for your prayers, your continued prayers that we may be guided in regard to these three things; first, that we may, as a Mission, retain the spirit of willingness to be small, to be despised, to be poor, to suffer hardness—the spirit which characterized Mr. Taylor and those with him…. Secondly, that we may keep to our own work of raising up a generation of intelligent Chinese Christians. And then, lastly, pray that the missionaries may have great wisdom in dealing with these large numbers of persons who are now desiring to receive instruction.[23]
Hoste had always prayed for the Chinese church to be led by the Chinese, and be self-governing, self-supporting, and self-propagating. Hoste's vision for the CIM was not that it would become big and influential. Rather, his dream was for CIM to retain the willingness to be small, despised, poor, and to suffer hardness.
Prayer and fasting
Though Hoste often fasted, he never laid down any rules for other CIM colleagues on this matter. However, he mentioned fasting as "one thing needful." As he said:
A source of spiritual weakness and defeat may be found in failure jealously to guard our time of secret prayer and study of God's Word. These are needed not only for our own soul's nourishment, but as part of our work and ministry on behalf of others. It is easy by negligence in these things to grieve the Holy Spirit, the consequence being that without our knowing it, we are living and working on a lower plane of blessing and efficiency than we otherwise might do. A practical way of testing ourselves in this matter is to apply the question: are we spending as much time in prayer and feeding upon God's Word as we do in taking bodily nourishment at meals? It is those who habitually draw nigh to God, who will find that He draws nigh to them and uses them as His messengers to others.[24]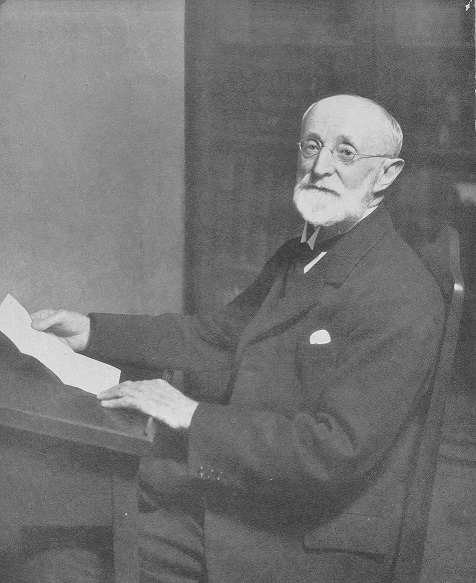 At another time, he wrote:
I find it a good thing to fast. I do not lay down rules for anyone in this matter, but I know it has been a good thing for me to go without meals to get time for prayer. So many say they have not sufficient time to pray. We think nothing of spending an hour or two in taking our meals. It is worth while trying out doing without sometimes. What a benefit it is spiritually, and I believe our digestions would benefit also![25]
Wrestling against the power of darkness
Hoste does not talk much about the unseen forces in his writings, but he was constantly aware of them. During his time working with Pastor Hsi, he frequently encountered spiritual forces when helping opium addicts. He reminded colleagues to choose the battle well, since unless a Christian worker "is constantly and faithfully wrestling in the heavenlies with the powers of darkness, there is real danger of his becoming involved in wrestling with his colleagues."[26] Intercessory prayer was a tremendous physical exercise. According to James Stark, Hoste, like Epaphras, "knew what it was to labour fervently in prayer for others, sometimes with fasting. On his own confession, he often found that this sacred exercise involved spiritual conflict."[27]
In 1925, when he was on his way to Australia, Hoste became seriously ill. A colleague who accompanied him on this journey got a glimpse of the strain that the prayer ministry imposed upon him.
One morning, a few days before he would recognize that he was really ill, during our time of intercession, he simply wrestled in prayer, and cried to the Lord in agony to deliver poor China from the awful power of demons and principalities and powers, and he quite broke down and burst into tears—the only time I ever saw him weep. He could not possibly stand this strain when he was so ill, and was not able to maintain our daily periods of united prayer and intercession, but I have no doubt that he spent much time in silent prayer.[28]
Hoste shared his agonizing experience in prayer.
It must be remembered that there are "spiritual wickednesses" at the back of all confusion and discord in the work of God…. The servant of Christ must, therefore, practically recognize that his warfare is with these satanic beings and must be waged on his knees. In no other way can any one of us be used by God to deal effectively with troubles in His Church. There must be persevering prayer and intercession before the powers of darkness are driven back. How blessed that this great truth lays it open to the weakest of us to prevail in matters which would otherwise be entirely beyond our strength and wisdom.
It is far more difficult to continue steadfastly in intercession on behalf of those amongst whom we are called to minister, than to engage in outward activities for their good. And yet, if the powers of darkness, which are blinding the minds of men and hindering the work of God, are not overcome through sacrificial prayer, little, if anything, is really accomplished.
I have found that waiting upon God, and intercession on behalf of others, are really the most vital and effective parts of my service. You will remember the stress placed upon this in the Scripture, and also one or two figures of speech indicating that it is often attended with difficulty and suffering, due in part, at any rate, to the persistent opposition of the powers of darkness, who can only be overcome by perseverance and importunity in prayer.[29]
Praying for the Two Hundred
In 1929, Hoste issued a call for prayer for two hundred new workers—an appeal known as the Forward Movement. In his typical fashion, he wrote a direct and unemotional letter stating the need so that all the friends and supporters of the Mission could hear. As described by Thompson,
In Australia and New Zealand, in North America and Great Britain, the appeal went forth. Pamphlets and cards were printed, and meetings convened to make known the spiritual need of China and the new response that it had called forth from the Mission. Prayer was being made definitely for two hundred new recruits to be on their way to China before the end of 1931. What would be the answer of God?[30]
Hoste well recognized the spiritual issues involved. "It will involve perhaps the most tremendous conflict which we have yet had as a Mission and every part of it will need to be, as it were, steeped in prayer."[31]
As the months passed, the need for prayer became apparent. Though many offered their service, only one in six were deemed suitable. The others were rejected due to health, age, and other issues. Neither natural nor spiritual qualifications could be lowered in order to meet the numerical objective. As 1930 came to an end, less than half the desired number of new workers had sailed for China. For the prayer for two hundred laborers to be sent by the end of 1931 to be answered, about one hundred and ten candidates needed to be accepted, trained, and sent forth in the next twelve months. Hoste declared: "We must have a day of prayer." In her biography, Phyllis Thompson described the mood at the beginning of 1931.
Tuesday, February 10th, was set aside to be given up entirely to prayer that God would yet grant their request for the full number of two hundred new workers to be sent out before the end of the year. Cables were sent to North America, Australia, New Zealand and Shanghai, calling as many as possible in the fellowship of the Mission to unite in pleading with God on this day. And God answered! How often in the annals of the Mission has earnest, united prayer proved effective, and turned into victory what looked like being defeat and confusion of face. From February 10th onwards the tide began to turn. The General Director wrote "An Urgent Call to Action," a leaflet which must have been read by thousands of people. Applications began to come in from promising young people … And although there were many disappointments and unforeseen hindrances put in the way of the recruits, by the end of the year two hundred and three new workers had set sail for China—the last party, six young men, leaving England on December 31st![32]
Hoste witnessed God's amazing answer to prayer at the age of seventy.
Home call
On 23 May 1946, the prayer hall at the CIM building in Newington Green was full. The memorial service was presided by Rev. W. H. Aldis, the CIM Director for Britain. Representatives of various mission societies, church leaders, and colleagues paid the last tribute of respect to the man who for thirty-five years was the leader of the CIM, and the last of the Cambridge Seven. In his words about his former director, Aldis remarked that "it was his prayerfulness which was the great source of his equipment for high office."[33]
Similar remarks came from James Stark, formerly the Secretary to the China Council, who had worked with Hoste for many years at the CIM Headquarters in Shanghai.
Above everything else, Mr Hoste was a man of prayer. He laboured in prayer, he was a great intercessor. In his prayer life, which was really the secret of his influence; in his self-denial, and he lived a life of great self-denial; in his devotion to the interests of God's work which was always paramount to him, and in his loyalty to the teaching of the Holy Scriptures, he set the whole Mission a very high standard, and we shall never know just what we owe to him and to his godly example.[34]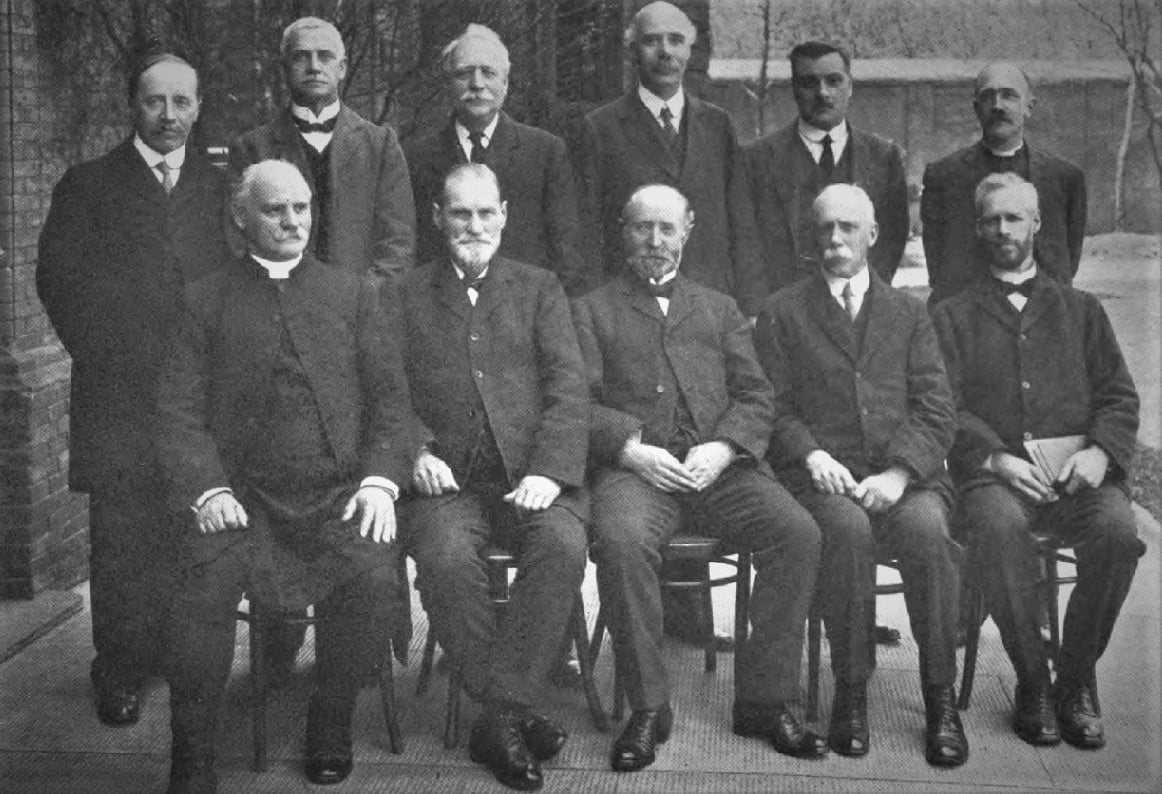 The China Council in 1915. Back row (from leftft): G. W. Gibb, J. Vale; A. R. Saunders, J. Stark, G. Howell, W. H. Aldis. Front row: W. W. Cassels; J. W. Stevenson, D. E. Hoste, J. N. Hayward, W. Taylor.
The most detailed and penetrating description about Hoste as a soldier and a mystic came from Phyllis Thompson, who later wrote his biography. In the memoriam she wrote in China's Millions, she portrayed his outward life as characterised by simplicity and austerity despite his background—for he came from a prominent and wealthy family. She recalled that Hoste, while fingering a beautiful, expensive piece of cloth, once said, "I'd make a good rich man; I love nice things."[35] This part of his background and life prompted her to say that "There is no doubt that he could have won for himself a name in a world of cultured society … but he has voluntarily come amongst us people of lower stature—above whom he stands head and shoulders."[36] Mentally, he refused to indulge himself. He practised self-denial. And he was willing to serve for years in a small station in inland Shanxi under a hot-tempered Chinese leader.
Thompson characterized his prayer life by saying:
Prayer was at once his native breath, his satisfying portion and his most arduous work. It ever took first place in his life and service. It was usual for him to spend an hour, two hours, kneeling in his office each morning before beginning to attend to the stack of letters awaiting his attention. To pray aloud was his custom … with his wife, his stenographer, or a colleague. Beginning with worship that was sometimes too sacred to be repeated, he would then pray for "all men." The wider interests of God's Kingdom, realms far beyond his own personal responsibility, engaged his earnest intercessory prayers. Then he would come to China, and the Mission of which he was the leader. Station after station, missionary after missionary, were brought before the Lord in a stream of quiet, intense supplication. The self-discipline of his natural life had released his spirit. His austerity of temperament may have held him somewhat aloof from his fellowmen, but there were no barriers between him and God."[37]
Several photos of Hoste have been reproduced in Phyllis Thompson's book, D. E. Hoste: A Prince with God. One stands out. This is not the impressive picture of the Cambridge Seven—including Hoste—dressed in Chinese clothes. Nor is it the wise-looking Hoste at his desk in full suit and tie. Rather, it is the picture of the unshaven Hoste sitting on a simple wooden stool in simple peasant clothes holding a bowl and chopsticks with a young Chinese brother squatting next to him. The background seems to be dirty and dusty with broken walls and gravel scattered around. Hoste was such a man.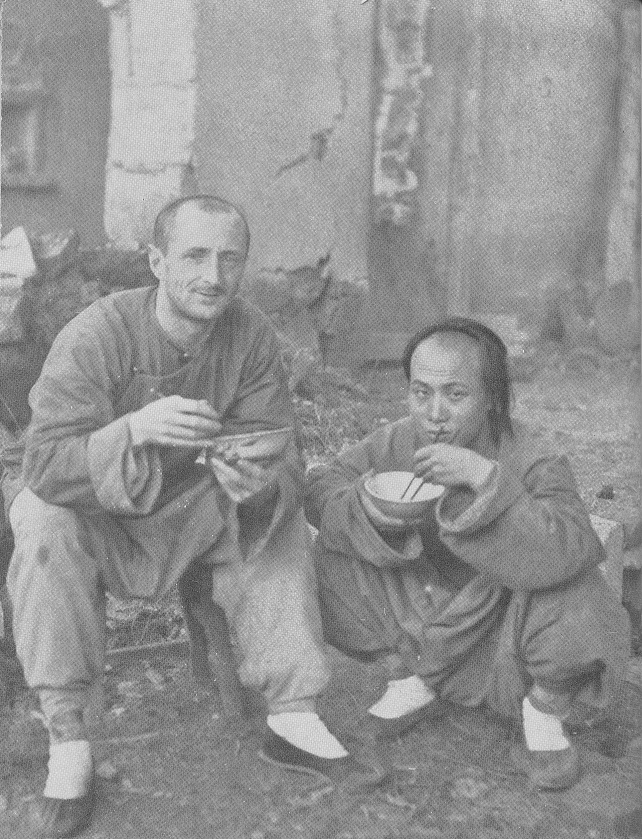 Yes, Hoste could be like an eagle, flying high and in solitude while engaged in prayer. But he was also with the people. Throughout his time in China, he encouraged his Chinese brethren to lead the Chinese church. His dream was that the Chinese church might become fully self-governing, self-supporting, and self-propagating. From the perspective of today, it is clear that Hoste's dream has come true. His prayers have been answered.
____________________________
[1] Minutes of China Council meeting held in Shanghai on Saturday, June 13, 1931, at 10 a.m., Billy Graham Center Archives Collection 215 Box 2 Folder 40.
[2] Phyllis Thompson, D. E. Hoste: A Prince with God (London: China Inland Mission, 1947), 156, available for download from https://missiology.org.uk/book_prince-with-god_thompson.php (accessed 30 July 2021).
[3] Thompson, D. E. Hoste, 10.
[4] Thompson, D. E. Hoste, 95.
[5] Thompson, D. E. Hoste, 19.
[6] James Hudson Taylor, China: Its Spiritual Need and Claims (London: James Nisbet, 1865).
[7] Reference form from W. T. Storrs in the OMF UK Archives.
[8] Thompson, D. E. Hoste, 80.
[9] Thompson, D. E. Hoste, 80–81.
[10] Thompson, D. E. Hoste, 124.
[11] John C. Pollock, A Cambridge Movement (London: John Murray, 1953), 87.
[12] This was mentioned in his eulogy. Record from Billy Graham Center Archives Collection 215 Box 4 Folder 56.
[13] In his testimony published in the 1940 China's Millions, Hoste did not name Smith, but only referred to him as a fellow colleague. D. E. Hoste, "A Principle and a Testimony," China's Millions, British edition (July-August 1940): 99.
[14] Thompson, D. E. Hoste, 53.
[15] Thompson, D. E. Hoste, 53.
[16] Hoste, "A Principle and a Testimony," 99.
[17] Thompson, D. E. Hoste, 158.
[18]  A. J. Broomhall, The Shaping of Modern China: Hudson Taylor's Life and Legacy, Part VII It is Not Death to Die (Carlisle: Piquant, 2005), 712.
[19] Broomhall, The Shaping of Modern China, 713–14.
[20] "Monthly Notes," China's Millions, North American edition (May 1901): 62, https://archive.org/details/millions1901chin (accessed 30 July 2021).
[21] Thompson, D. E. Hoste, 62.
[22] D. E. Hoste, "Possible Changes and Developments in the Native Churches Arising out of the Present Crisis," Chinese Recorder (October 1900): 509–12, https://archive.org/details/chineserecorder31lodwuoft (accessed 30 July 2021).
[23] D. E. Hoste, "Address by Mr. D. E. Hoste," China's Millions, British edition (January 1906): 6, http://findit.library.yale.edu/catalog/digcoll:219091 (accessed 30 July 2021).
[24] Thompson, D. E. Hoste, 164–65.
[25] Thompson, D. E. Hoste, 165.
[26] Thompson, D. E. Hoste, 165.
[27] Thompson, D. E. Hoste, 116.
[28] Thompson, D. E. Hoste, 116.
[29] Thompson, D. E. Hoste, 117.
[30] Thompson, D. E. Hoste, 138.
[31] Thompson, D. E. Hoste, 138.
[32] Thompson, D. E. Hoste, 139–40.
[33] W. H. Aldis, "D. E. Hoste: The Administrator," China's Millions, British edition (July-August 1946): 27.
[34] "Dixon Edward Hoste," China's Millions, British edition (July-August 1946): 26.
[35] Phyllis Thompson, "D. E. Hoste: The Man Himself," China's Millions, British edition (July-August 1946): 28.
[36] Thompson, "D. E. Hoste: The Man Himself," 28.
[37] Thompson, "D. E. Hoste: The Man Himself," 28.