After nine years working with OMF in Cambodia, my family and I found ourselves back in Manchester and in our supportive sending church, Holy Trinity Platt. The church seemed far more ethnically diverse than before; we were excited, as we sat with people from India, Malaysia, Nigeria and Indonesia. It felt like home from home!
However, after a while, we realised the diversity of the congregation was not reflected in the leadership. Most of those who led from the front were white British and this filtered down into house group, student, and children's work leadership. How different to our time in Cambodia where we had been so blessed by multi-ethnic leadership whether from our Cambodian pastor, Malaysian team coordinators, or from gifted and passionate Korean church planters, Thai, Swiss and American colleagues…the list goes on!
During a lunchtime meeting with our Rector, we were able to share our observations and he enthusiastically suggested I write a job description for a new role to help tackle this issue. Within weeks I was seconded from OMF to take up my role as volunteer intercultural worker. The Bible verse that was stuck on repeat in my mind was,
'It is more blessed to give than to receive.' (Acts 20:35)
It led me to question, 'How much blessing is withheld because people do not have the opportunity to give in our churches'? This concept of 'giving and receiving' is at the heart of the term 'intercultural', with its emphasis on mutual learning and reciprocity in relationship. 
What does being an intercultural worker look like?
Every day is different but my time is roughly divided into three areas: building relationships; sharing learning; and examining systems.
Building relationships with church members is crucial. As we get to know someone, we begin to build trust. I think much of the lack of diversity in church roles is simply down to the fact that church leaders, like most humans I've met, gravitate towards those who are like them. Therefore, they become their 'go to' people when a job needs doing! Many church members I have met shared that they feel nervous about breaking into what looks like a mono-cultural group. I myself wrestle with these very feelings. However my experience in Cambodia has taught me that there is great richness in getting to know someone with a different worldview. Reading the Bible with people from different places is fascinating – hearing another perspective challenges our own cultural blind spots.
My advice is to be intentional about getting to know all sorts of people.
Sharing learning is key to my role. It was through OMF that I started to read Asian authors like Ajith Fernando and Hwa Yung. Now, every month, I read an intercultural book and share a short summary with the staff team – these might be books by Majority World* authors, about systemic racism within the Church, or about cross-cultural ministry such as how to talk about the Bible with Muslims or how to prepare Chinese students for the culture shock they may face when they return home.
Examining systems has been a more sensitive area and can be painful. At Platt we've been asking: what factors have led to us having a cohort of seven white Ministry Trainees when we live in one of the most multicultural cities in Europe? What is the impact on our Black and Asian members, especially their children, when the images and real-life people they see at the front of church are mainly white? Or, more positively, what is the impact on an international student when they hear the Bible read at the front of church in their heart language? It has been great to implement this; we've had Bible readings and prayers with translation in several different languages. International friends have shared that this small act is heart-warming and I believe it is also life-bringing for the whole church. It lifts our eyes beyond our present circumstances and reminds us that God is at work in his world. It's a visual representation of the thread that runs through the Bible narrative – God is bringing people from every tribe, people and language to himself.
Part of my role is about asking questions. Looking back to when we first returned to the UK, I ask myself: had the church changed or had I? Being part of the OMF team in Cambodia and a member of a Cambodian church opened my eyes to the joy of sharing life with people who were not like me. You may not move overseas, but I firmly believe if you connect with people not like you in your church, both giving to and receiving from them, you and your church will be blessed!
* Majority World – Where the majority of the world's population lives – Africa, Asia, South and Central America and the Caribbean. The 'Minority World' covers Europe and North America.
Vinoth Ramachandra, Sarah's Laughter Doubt, Tears, and Christian Hope (Langham, 2020).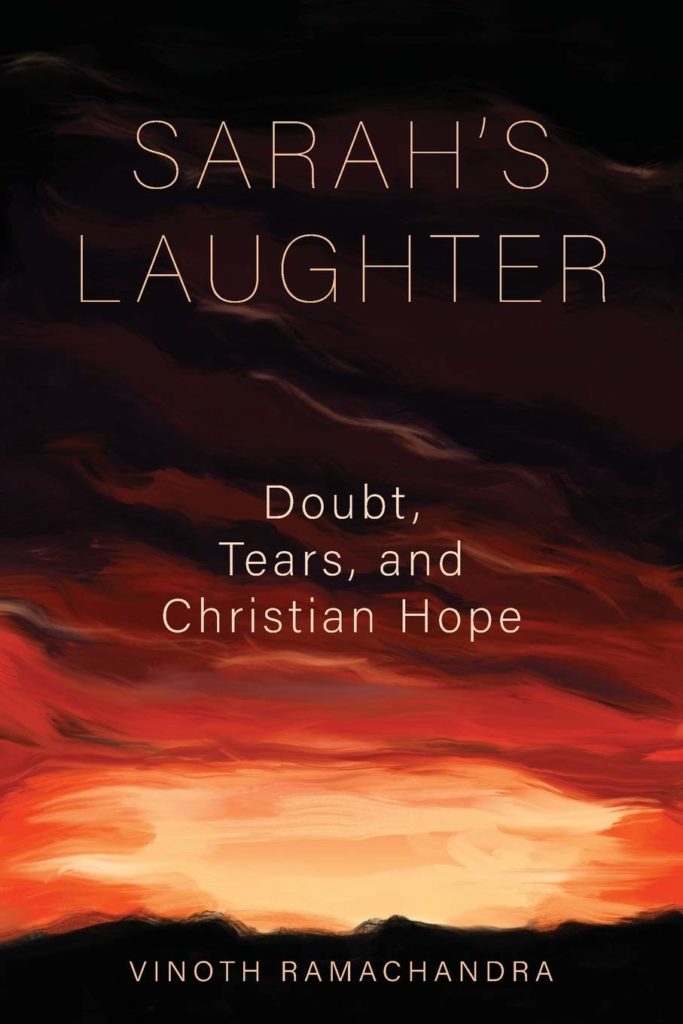 The latest book Grace has explored with Holy Trinity Platt. In it, the Sri Lankan theologian reflects on suffering and lament. £9.99 from Langham publications.