This stirring article by Dr. A. J. Broomhall from the Australian edition of China's Millions in 1950 provides a vivid account of the pioneering work among the Nosu in turbulent times of the Communist revolution. He reviews the Lord's faithful guidance and provision amidst immense challenges faced before and after he moved to Chaokioh (Zhaojue) with Janet and their three daughters. Ruth Dix and Joan Wales joined the Broomhalls as the small CIM team who served steadfastly even as they offered up constant yearning prayer for hoped-for colleagues.
A. J. Broomhall was born in China in 1911, the son of Benjamin Charles and Marion Broomhall who were missionaries with the Baptist Missionary Society. After his medical training in the UK, he returned to China as a member of the CIM in 1938 in the midst of the Sino-Japanese War. His intent was to live among the Independent Nosu of Sichuan, though he was only able live among them from 1947 to 1951. For the next dozen years he served in the Philippines and subsequently moved to the UK to serve as Candidates Secretary. In the decade after his retirement, he wrote the seven-volume Hudson Taylor and China's Open Century, a significant contribution to mission history that has been an inspiration to countless readers.
Pioneering in Nosuland: Initial Impact Made
Dr. A. J. Broomhall, Chaokioh, Sikang[1]
Abridged from Dr. Broomhall's article in China's Millions, Australasian edition (June 1950): 18-27
In 1947 after first visiting Nosuland we wrote in our report: "The heart of Nosuland is wide open and ready for occupation." Since then we have constantly looked forward to saying "the heart of Nosuland is occupied." But with the threshold of a third year already crossed, and in spite of abundant evidence of God's blessing upon this enterprise, we dare not yet claim to have attained that point. Physically, materially, we have staked our claim, established a base in which to live, and from which to extend our influence, and made an initial impact upon the people through preaching and medical work. If, however, we were to leave tomorrow, little more than mud walls and memories would remain; certainly little or nothing that is everlasting.
The keynote of 1947 was Exploration; and of 1948 Penetration; if that of 1949 could have been Occupation, our aim would now be to make 1950 a year of Consolidation and Expansion. And God willing it will yet be so. For the note of disappointment here we make no apology. We feel it to be justified. Our hope and prayer, and yours too, we believe, has always been for God to be glorified in a living church in Nosuland without delay. But if a backward look shows something to be desired, what cause for praise and thanksgiving it also reveals!
It stimulates to confidence for the future so that with the eyes of faith, when our clinic hall, and courtyard are milling with well-disposed Nosu and Chinese, we see them as Christians of the church to be, and yearn for the fulfilment of this vision.
The First Achievement of 1949
The first achievement of the past year has been the completion of the building, without which neither the full team nor our family could have moved into Nosuland. Against every kind of difficulty, the work moved slowly forward. The impossibility of buying timber in bulk made it impracticable to employ more than ten carpenters, who had, to fell and saw before they could use the wood, so that progress was slow and our ingenuity was continually being taxed to the utmost. Frost damaged the damp mud walls after they were pounded, and more than once we had to pull down parts of them and start again. When the rainy season came and storms caught them unprotected, big sections of wall were washed away while we stood watching helplessly. Time and again the funds in hand were inadequate to cover the next month's building costs and a decision had to be taken whether to stop work or to trust in the Lord and undertake fresh commitments. Alarming news of the civil war, urgent consular warnings to evacuate, questions as to whether we would be permitted under a new political regime to carry on, kept forcing us to review the grounds on which we continued this seemingly unproductive labour. And every time the conviction was fresh-born in our hearts that what God led us to begin He would have us complete, so that each crisis became easier to face in the light of past experience, until our "foolhardiness" was vindicated and His faithfulness demonstrated over and over again.
It was an adventure and an exhilarating experience throughout—from drawing up plans and estimates, and manipulating large sums of money, crude silver and barter to marking out the foundations and directing the builders. In all of this every member of the team played a big part, not least our indispensable and untiring friend Floyd Larsen, who had left the work in Yunnan where his heart is that he might help us. Now that he and the builders have all gone and the home and clinic are in full use, with medical work increasing and regular services being held in the guest hall, every struggle of the past year has been well worthwhile.
Moving into "The Promised Land"
In April the great moment came to move into the promised land. The three children were carried in two wicker chairs slung between bamboo poles, while we rode our animals beside them. If it had poured with rain throughout the four days' trek, it would not have been surprising at that time of year, but through the goodness of God the weather was perfect. How the children enjoyed the mountain panoramas and the rolling pasturelands. And whenever we came upon villages, shepherds or workers in the fields, the excitement of the Nosu was a joy to watch: "A-bee, A-bee!" they cried on seeing the little fair-haired curiosities, and brought out gifts of eggs to welcome them. After arrival at Chaokioh, too, the interest was immense, and crowds of Nosu came almost daily to catch a glimpse of A-Va, A-Ga, and A-Ji.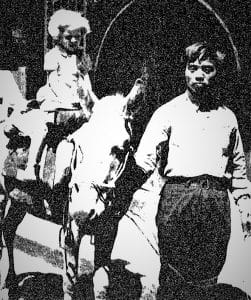 A new and strange sight in Nosuland—an English child, Elizabeth — eldest daughter or A. J. and Janet Broomhall
The missionary zeal of the children has always been a delight to us, and now they were thrilled by every opportunity to "tell the Nosu about Lord Jesus"—little knowing that our brave best could seldom convey our meaning to the listeners. We settled in the little mud barn which now houses our horses, cow, fowls and two homeless lepers whom we have adopted. The loft became our bedroom, with the advantage that if it rained, and leaked at night, we could reach out a hand from bed and adjust the shingles (and later on the tiles) without discomfort! And by day, while we were busy supervising Chinese and Nosu on the buildings, the young fry had the run of the grounds and all these workmen to amuse them.
The rains were torrential. One night after days and days of unrelenting downpour, a section of the "city" wall that bounds two sides of our premises, collapsed on to the shed serving temporary duty as a stable. The roar which awakened us was terrifying. With the first fall of stone, the horses stampeded, breaking out of their enclosure, but our milk supply, a much-loved goat with her kid were crushed to death. Every day, when unable to play in the open, Elizabeth, Pauline and Margaret used to sit in the haystack under this shed. If their angels had not been vigilant and the fall had not been at night, we might well have lost them, too.
The Finances of the Year
By August it seemed right to visit Sichang [2]  again with the hope of returning with the Misses Ruth Dix and Joan Wales as soon as possible, and the way in which God brought this about in answer special prayer is but one of the many sacred incidents of the year. The finances of the whole year were most remarkable, and confirmed in our own experience the satisfactoriness and simplicity of trusting God to supply all necessary funds for the fulfilment of the purposes He has indicated.
In embarking on our building programme, it seemed reasonable to us to assume that if God could supply donations for use in Nosuland in such a way as to prevent the expenses of this new enterprise from being a burden on any existing work. Special prayer was therefore made to our God and, with the approval of the Directorate, building started with barely enough credit available to cover the first month's costs.
Thereafter trials of many kinds were encountered, not only through the withholding of answers to our prayers—for the Lord found it necessary to test us frequently lest we grow presumptuous—but also through obstacles to the transmission of funds from the coast, and even to the use of them at our supply base. Transmission rates were often over 30%, and the fulminating currency inflation consumed much of what remained. But restrictions on the purchase of food and barter, and boycotting of the new currency by traders, handicapped us as much. Several times it seemed as if we would have to send the workmen away and admit defeat, but we waited urgently upon God to save the situation—and in every case He did so, not without affectionate gestures to encourage us, such as the good news of deliverance arriving on a birthday! On one occasion a calculated need of 300 pounds was met by the announcement that a fund in memory of an old friend, Miss Anne Harcourt of the Medical Missionary Association, was to be devoted to this cause, with an initial cheque of that value.
In the British Medical Journal last year there were these words: "In China it now costs as much to put in the windows of a rebuilt hospital as it cost to build the entire hospital before the war." Yet in spite of our building being in much-feared Nosuland, involving higher wages to compensate workmen for the risks they took in coming, we received enough for all our needs, full measure, pressed down, and running over. Our total receipts for building the clinic, home and stable, with their outhouses, garden walls, paths and so forth, and operating expenses, included nearly 1200 pounds from Great Britain, over U.S. $2000 from North America, 40 pounds from Australasia, and U.S. $600 contributed here in China. Can you wonder then that we believe the changes taking place in China will not end our service here, but that in His own time the Holy Spirit will do yet greater wonders for the people amongst whom He has brought us?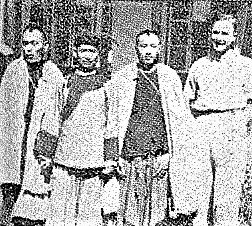 Nosu chiefs with Dr. Broomhall
An Adventure of Faith
All this was an adventure of faith, exhilarating like gliding engine-less in stormy weather, deriving from the rough winds the impetus and elevation needed for good progress. But there were other kinds of buffeting, only to be expected by those trespassing in the Devil's age-long reserves. In the atmosphere steeped in opium, gambling, drunkenness and immorality, sometimes several weeks alone in charge of building operations, with no response to our witness, and always with inadequate help, small wonder it often seemed as if the Enemy went as far as the Lord would allow him to try to dislodge us.
During this rather gloomy period we were faced with losing some of our colleagues, never more than just enough, and later all of them. In prospect it seemed that it would be impossible to carry on, and work might as well be wound up forth with. But just at that point God in His goodness intervened and sent us a breath of fresh air from the very purity of Heaven—a visit by three saints from the church at Salowu, Yunnan, a Chinese Bible school Principal, Pastor Chen, with two of his tribal students, one a Nosu and one Miao. They sensed the situation at once, encouraged us to persist and brought new life and vision to us all. But best of all, Chang Yuhshih, the Nosu Bible student seemed keen to rejoin us after graduation in the winter, and as we write the news has come of his arrival in Sichang.
The Lord Undertakes
Our good friend, An Chengmeng (Strong Tower [3], page 205) had to go home, too, because his valley had been visited by bands of brigands, and several church families had been robbed, including Yohan, his father, and his own wife and children. Chang Chungli, our business manager, was due to return home on holiday, but through the goodness of God to us, he was hindered and so remained a few months longer. If this had not happened, we would have been in a very tight corner, for in an atmosphere rumour and rebellion it would been difficult to leave the women and children alone in Nosuland in order to handle affairs and buy supplies in Chinese territory.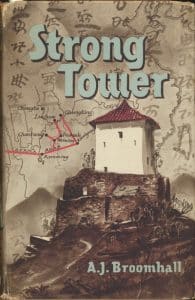 A. J. and Janet Broomhall were able to live and work among the Nosu in the Guizhou province in the late summer of 1944 but they were forced to make a hasty departure in December as a Japanese offensive reached Guizhou. Their time there resulted in his first book, Strong Tower, which portrays the lives of the Nosu and the embryonic church through the experiences of a faithful Christian leader who was a school teacher by profession.
Life has been difficult, but full of zest. In the thick of the best of it we have frequently our feelings with those we enjoyed often in a rugger (or hockey) melee when knocks and bruises and "getting scragged" were all part of the fun. For do we not know already that He Who is our Captain will both triumph and reign here in Nosuland?
Another cause of praise and gratitude to God is that we have lived in peace in spite of threatened trouble. Twice we have been threatened with invasion by irregular "Communist" guerrillas who were reported to be only one and a half days' march away. And twice the Nosu around us have held clandestine parleys after dark to plan revolt and once again drive out the Chinese. If the guerillas had come there is no knowing what our fate would have been; we were strongly urged to pack up and flee lest the children be involved in carnage and even slavery. On each occasion the decision to stay might have been difficult to make, but thanks to a constant revelation of the will of God, which superseded reason, and to the unhesitating, uncompromising attitude of the women of the team, who would have been most affected, it was never really in doubt.
Some Difficulties Encountered
Against this background of unsettledness, the medical and spiritual work went slowly forward. The language barrier was well nigh insurmountable at first, for pagan interpreters presented such a garbled version of the Gospel, that we were slow to use them, and could say little in Nosu ourselves. But Sunday services in Chinese, primarily for our own small team of Christians, were usually well attended by others, too, and the clinic waiting hall often crowded out; and real interest has been shown by some. Reading classes to teach the teenage Chinese girls, and visiting in the homes of Nosu friends have been a very worthwhile work, even though the reaping of the harvest bides the Master's time.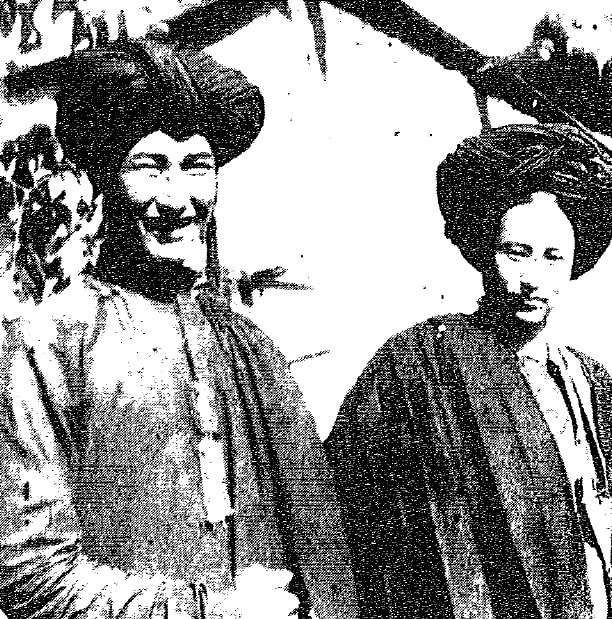 A Nosu chief's relatives, husband and wife
Some patients have responded with a little evidence of interest in the Gospel while under treatment, but here again so far as we know none have gone on to true belief. A leading chief named Vu Ha, blind from childhood but intelligent and influential, asked for treatment on the twelfth day of double pneumonia when he and his relatives had given up hope from sacrifices to the demons supposed to be afflicting him. Scores of people had already gathered to take part in his funeral rites, and when we prayed with Vu Ha and administered his penicillin injections, exhorting him to believe in Him Who is greater than all demons, it was before an audience of sixty to eighty wondering and cynical spectators. To their surprise and the disappointment of his wife and brother, who were expecting to inherit his possessions, the patient recovered. But then they all had to be compensated for the feasting they had missed and Vu Ha joined them in nightly drunkenness until he relapsed. Once again, after consulting his demon oracles, he submitted to treatment, and once again, feeling better, though still suffering from heart failure, he got up and went for a walk, relapsed, decided our cures were but transient, and went home to die. A thousand people came to his cremation, and his family wailed, "If only he had sacrificed a few more cows the demons would have been placated." From the beginning of this struggle we felt it was a battle in the heavenlies for his soul, and prayed most earnestly for his cure and salvation.
Some Encouragement
In another case, a young Chinese trader came to us with general peritonitis and a large intra-abdominal abscess. Drainage succeeded the first and he went away apparently cured but the trouble recurred and once more he was desperately ill. Another operation and intensive treatment brought him through, and realising that he had been saved from the inevitable but for our help, he welcomed all the Scripture and Gospel teaching that we gave him, and went home full of praise and gratitude to us, but without yet putting his trust in the Saviour. This  success did much to counteract the influence of Vu Ha's story, and the news spread through the countryside that we had not only opened an abdomen and the patient survived, but he had   been cured of his disease! Since then been seeing more and more surgical cases, and from greater distances.
These are early days, and the pioneer stage of any venture is bound to be hard and disappointing in some ways. We enjoy it. But we ache to see souls illuminated. Help us to pray our way through obstacles of every kind, and then one day you will rejoice again with us over faith rewarded and God's grace received. The opposition from unbelievers in this place is persistent, so that some fear to come to us who might do so, and it will need marked courage for any to stand up against their ridicule.
Looking to the Future
And now we leave the past with God, for the present holds more than we can handle, and the future is alive with opportunity. We want 1950 to be a year of Occupation, Consolidation and Expansion—not only in a spiritual sense. There are goals ahead that we would have reached  long since had more colleagues been available. And here in Nosuland, where there is so much of a practical nature to be done, we sorely need MEN if we are to be adequately staffed and free to undertake journeys farther afield.
With increasing medical work (we have had fifteen operations and two confinements in the last four weeks) our present team is more game than qualified to cope with all that comes, and we are praying that some medically trained missionaries will soon be called to join us. The Nosu women here are most reluctant to allow a man to attend them, and unless a woman doctor joins our ranks it will be a long, long time before they get the treatment they deserve.
But the lepers perhaps cause us more heart ache than any others. Every week one, two or three come pleading to be taken in and treated. Driven out by relatives and friends, they reach us carrying all that they possess, with food enough for two or three days only, and nowhere in the wide world to find refuge. A year ago we took one in, and under treatment he is already half-way towards a "cure." Zz-t'pp is his name! And recently a little boy of fourteen or so arrived from the Mp'o country, destitute. We had not the heart to drive him out, so gave him food, medicine and somewhere to sleep in exchange for grazing our cow. But he was homesick for Nosu company and ran away. A few days later a dejected Djii Ha reappeared, his scalp lacerated where he had been stoned by unfriendly people, and since then he has settled down amongst us. Is it right to run this risk to our own children? But what would you do?
In 1947 we were impressed by the need of Nosu lepers, and ever since the pathos of their condition has not ceased to stir us. But in spite of frequent efforts to persuade the chiefs who own the foothills called the Leopard's Mouth, that stretch of no-man's land between the rival Hma and Ba Tc'ie clans, to allow the lepers to live up there, we have not yet been successful. A few chiefs met to discuss their terms, but the parley ended in drunkenness and fighting as they do so often. But we are gaining ground, if slowly, and soon our cry will be for someone willing to live amongst the lepers in our colony.
The Challenge of Chuheh[4]
And finally, another challenge lures us. Chuheh was the place to which we felt called and only because it was essential to have premises and a base in safer regions than the Chuheh valley can claim to be, we settled first in Chaokioh. But few of the wilder Nosu come anywhere near Chaokioh, and Chuheh is the natural springboard for reaching out to hundreds and thousands Nosu in the mountains of the North and East. Therefore although we could be fully employed in the Chaokioh area alone, hearts are half in Chuheh, and wait for the way to open that may "go in and possess the land." The obstacles have been serious: firstly the tenants of the site, the Old Stockade, objected to handing it over; then our colleague, An Chengming and T'ang Chuan, the nurse, went home, leaving us short-handed; and thirdly we were warned that unless we had a dozen or so people, well armed, occupying the premises there, the risk would be too great! The tenants have now been placated and the way is clear. Some local Nosu have built new homes a stone's throw from the site, which increases our security; and with the coming of Salowu Christians our team may find it possible to expand across to Chuheh once again. Without the help of foreign missionaries living over there, however, to provide initiative and moral force, it is questionable how wise it would be to give our friends so formidable a task.
Women should not have to go where men will not; yet women gladly volunteer. God grant that soon there be men responding to His call. Not least among the obstacles to face is that of learning Nosu after so much Chinese language study, but the battle of the spirit is the grimmest and demands the greatest price. Daily, our courtyard fills with Nosu men, often drunk, and women and children, but we can see in them the souls redeemed, and count on your prayers to make this year, 1950, provide the fulfilment of our hopes.
And last, but not least, on 6th January, Jennifer Joy arrived in answer to the importunate and persistent prayers of her three sisters—the first white baby to be born in Nosuland.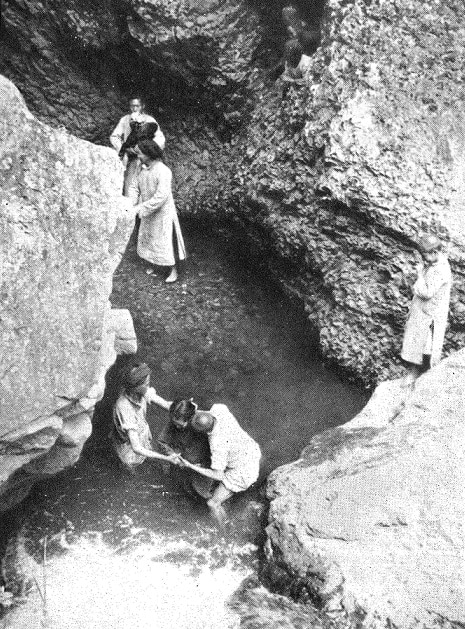 Baptism in Nosuland, Strong Tower, 176.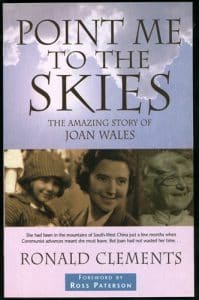 Point Me to the Skies: The Amazing Story of Joan Wales
By Ronald Clements. Sevenoaks: Monarch, 2006. ISBN 9780825461576.
This stirring account traces Joan Wales' journey to obey God's call to China and to the Nosu people in Sichuan. Her story  intertwines with the gripping narrative of the pioneering work of the small CIM team she joined—which included A. J. and Janet Broomhall and Ruth Dix—to reach the Nosu in the "Great Cold Mountains". Against the backdrop of the Communist revolution, their work in a remote, hostile area is a story of perseverance and trust in the Lord and his faithfulness. Though the team had to leave in less than two years, the story of God's work among the Nosu did not end at that point. Glimpses of this continuing story emerge in the closing chapters that recount Dr. Broomhall's and Joan Wales' reconnection with the Nosu when they visited Sichuan in 1988 and 1991.
[1] Chaokioh is Zhaojue (昭觉) and Sikang is Sichuan (四川)
[2] Xichang (西昌)
[3] A. J. Broomhall, Strong Tower (London: CIM, 1947)
[4] Zhuhe (竹核)