Conversations were abuzz in response to the news in the Shanghai Mercury that August 1892 morning of the passing of Dr. James Cameron in Chongqing at 47 years of age. Readers felt a heavy sense of loss as Cameron was well-known in China and deeply respected by countless missionaries, expatriate workers, and Chinese Christians.
The Shanghai Mercury article recounted Cameron's journeys that made him the greatest European traveller in the Chinese empire of the nineteenth century.[1] His journeys started in 1876 with a trip from Anhui province to Yichang in Hubei province, and went west from there to Sichuan province and Batang near the border of Tibet. Subsequent journeys spread across the provinces in south, southwest, northeast, and northwest China.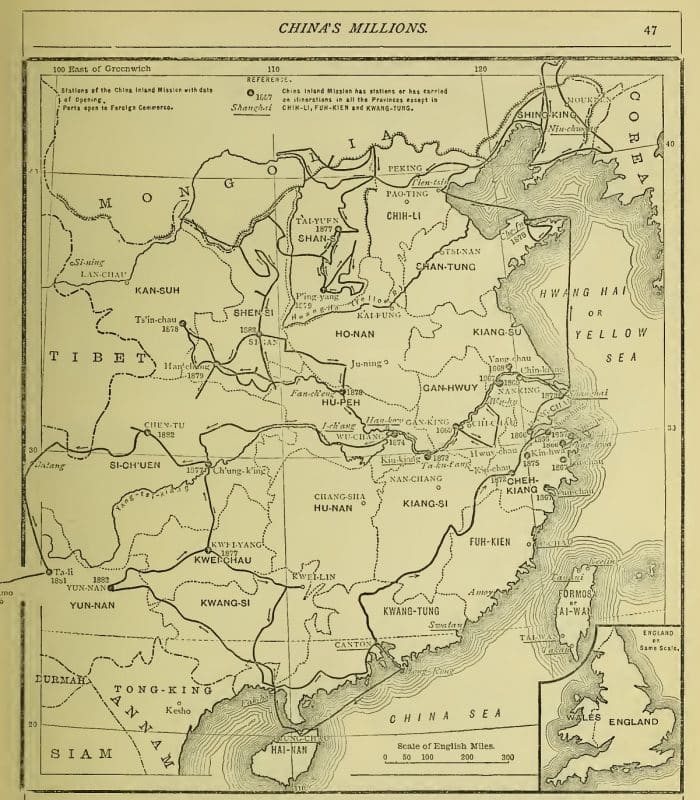 Map of Cameron's journeys in China's Millions (1884): 47
Cameron was indeed, as some have called him, the Livingstone of China. The sheer extent of his travels, marked on a map[2] in China's Millions in 1884, is astounding, considering that he traveled mostly on foot or mule back. His journey to the border of Tibet in 1877 was the most well-known, not because he was the first to make it as the route had been taken by Captain William John Gill and General William Mesney. His journey was remarkable in view of the sharp contrasts—Gill and Mesney travelled in sedan chairs with a cavalcade of servants and porters, while Cameron travelled on foot and on mule with one Chinese servant.
More importantly, Cameron's journeys draw us into the grand story of how the churches in interior China took root through a small band of missionaries and Chinese co-workers who acted on Hudson Taylor's plan and scattered to do pioneer work in nine vast provinces.[3] How did God use the journeys of this small band to turn the tide of his mission in China and ignite a movement that brought his message of redemption into the heart of China? How did Cameron win the deep respect of Hudson Taylor and countless others?
The story of Cameron and the small band of pioneers who followed him takes on great significance in the light of the political context of their journeys. A mounting crisis in Sino British relations led to the signing of the treaty between the Qing and British empires in Chefoo (Yantai) in September 1876.[4] While the Chefoo Convention allowed foreigners to travel into inland China and flung open the remotest regions of the empire, those were uncertain times. No one knew how long the doors would stay open as powerful Chinese scholars and government officials wanted the convention overturned. The first of Cameron's journeys started a few months after the signing of the Chefoo Convention. As Cameron and the other pioneers travelled to places that had not been visited by a foreigner, the missionaries were conspicuously foreign even in Chinese dress and their Chinese companions were no less courageous for showing themselves to be co-workers of the foreigners.
The journeys through the vast provinces of China needed all the resolution the pioneers could muster. Besides dangers and illness, there were daily challenges due to inadequate means of transport, difficulties in finding accommodation, and the absence of centres where basic provisions might be bought. Few were able to persevere for long. What enabled Cameron to press on doggedly to make arduous journeys for almost seven years to prepare the way for countless others to reap where he had sowed?
Read the fuller story below to find out.
James Cameron—the Livingstone of China
Changing course
The day the six-foot-tall Scottish highlander arrived at Grattan Guinness's missionary training institute in East London in April 1874 did not seem extraordinary. But it was a momentous change for James Cameron, aged 29, as he had left everything in Jarrow on Tyne, where he had worked as a shipwright, to answer God's call. Cameron joined the China Inland Mission, still in its first decade, which departed from the norm of other organizations by seeking members from different vocational backgrounds rather than just ordained ministers and doctors. Cameron became one of "the eighteen" who came in answer to Hudson Taylor's 1875 prayer for workers to take the gospel to nine remote provinces which few Westerners had dared to enter.[5]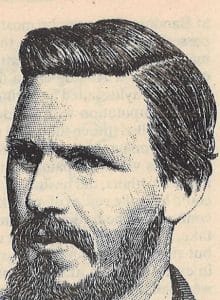 ​​​​​​​
Cameron reached Shanghai, together with George Nicoll and George Clarke, on 30 September 1875. They instantly donned Chinese clothes, adopted the Chinese way of life, and sailed 600 miles up the Yangzi river to Wuhan. Cameron went to Jiujiang for three months of intensive initiation into all things Chinese by Frederick and Mary Baller before being left alone with a language teacher at Anqing. He quickly soaked up Chinese speech and ways, and accustomed himself to living as a Chinese and travelling with little more than a bed-roll.
Cameron went on to the Anhui stations of Huizhou and Ningguo for several months, working with Chinese Christians and no foreign companion. His time in Huizhou was very trying due to increased anti-foreign feelings heightened by escalating political tensions.[6] The difficulties he and a Chinese evangelist faced on their journey to places near Huizhou prepared him for more difficult and dangerous journeys ahead.
Early journeys
Cameron's long journeys started in November 1876 when he traveled to Wuchang in Hubei province from there proceeded with Nicoll and three Chinese Christians to Yichang, a newly opened treaty port. Trouble started brewing after foreign officials arrived in Yichang to mark out a foreign settlement. Though several mobs attacked the officials, Cameron and Nicoll remained on friendly terms with the people amidst the rising tensions. Even so, instigations led to a riot in early March that left their house badly damaged with the missionaries being beaten but not seriously harmed. The CIM presented a factual report to the Consul and made it clear that they did not want anyone punished on the mission's account.
The summer of 1877 saw Cameron and Nicoll setting off for Sichuan with three Chinese companions, travelling up the Yangzi gorges by a goods-boat to Wanxian and then overland to Chongqing. Never travelling on Sundays, they preached and sold Gospel portions and explanatory books to fellow travellers and the inhabitants of hamlets, villages, market towns and cities.
At Chongqing, they made preparation for the journey ahead to Chengdu and eastern Tibet. Like the other pioneering journeys taken that year, plans had been worked out by and with Hudson Taylor—the destination, approximate itineraries, and practical details of stocks of Scriptures, transport, funding, and communication.
Journey to eastern Tibet[7]
Before they left Chongqing, an American Presbyterian missionary, Charles Leaman, decided to travel with them to eastern Tibet. After their stopover at Chengdu, they had to change plans when they came, as recorded in Cameron's diary, to "a suspension bridge made of bamboo ropes, 316 paces in length and 7 feet in breadth [with] 10 ropes underneath and 5 on each side"—they decided to take the more southerly route that would be less difficult for mules.[8]
In a city on the way to Yazhou (now Ya'an), the commercial gate of Tibet, a large group from the Yamen came to visit them in the inn, asking for the books they had heard about. On the streets, a large crowd gathered round Cameron after he sold a book. He preached a little but left when they became rowdy with some rough pushing.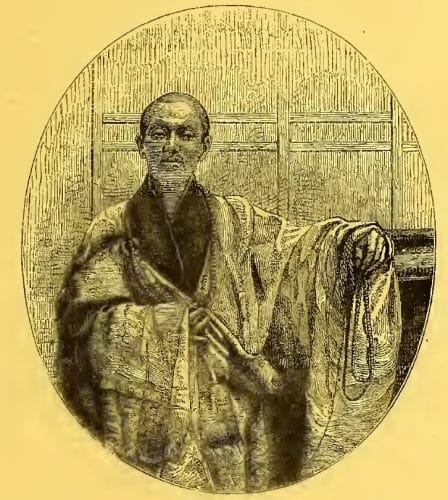 A Tibetan lama, China's Millions (1879): 111
After they left Yazhou, Nicoll fell very ill and was sometimes too weak even to ride his pony. They took about a week to travel seventy miles to Qingxi xian (now Hanyuan). There they faced reality that they would not complete the journey together. As one of their Chinese companions was finding the going too much for his strength and Nicoll showed no sign of improvement, they decided that Leaman would accompany the rest back to Chongqing while Cameron continued to Tibet.[9]
Cameron set off with "one man and a mule"—a good servant helped carry some of the load and a mule carried saddlebags filled with books and tracts. When roads were bad they walked and rode on easy stretches. Cameron continued to preach and sell books at each stopping place. His loneliness was patent in his note: "I miss my companions much."
He reached Dajianlu (now Kangding) on 15 October. At that border town of Eastern Tibet, he found at least half of the people were Manzi, the name given by the Chinese to the minority people. Cameron and his companion now faced the climb up to Batang. J. Huston Edgar[10], a CIM missionary who later served in Tibet, highlighted the difficulties encountered on the journey from Dajianlu to Batang near the border of Tibet proper:
This journey to Batang, covering nearly 400 miles of such country, is perhaps the most arduous in the world. . . the traveller will find 180 miles over 13,000 feet, 120 miles somewhere between 14,000 and 17,000, and of the remaining 80 miles only a paltry 30 miles below 10,000 feet. In addition to this altitude must be added the inadequate means of transport, the insanitary and unsuitable accommodation, and the absence of centres where suitable provisions may be bought.[11]
Bed that night was a pile of straw. At their next stop in a Manzi shack, when Cameron read the phrases he had written down, his host was very pleased with their correctness. "He told me if I ever passed again, to be sure and put up in his house." People were the reason for his being there and his diary is filled with descriptions of the people, customs, and language. At each place, he took note of the people's response to preaching and gathered information that would be helpful for future ministry by returning missionaries.
After crossing the Yalong River, they faced a huge snow-clad mountain: "Both of us have swollen and sore lips, and heavy colds with sore throats." For three days, they climbed to 14,500 feet and descended before arriving at night in a hamlet where people were too afraid to let them in until one man finally relented. The next day, 23 October, they reached Litang at 13,280 feet with its gilded lamasery roofs.
Setting off early two days later, their day ended when a friendly Shaanxi Chinese welcomed them into his home for the night. Feeling ill, and with no fire for warmth, Cameron lay down "with a burning skin, almost shivering with cold." Two days later, it was God's providence that an innkeeper appeared when they were unsure of the way. Thankful for rest the next day (Sunday), Cameron was able to speak to a few who visited, though he was not well. Along the way, it was with difficulty that they obtained sufficient "tsan-pa," the native food.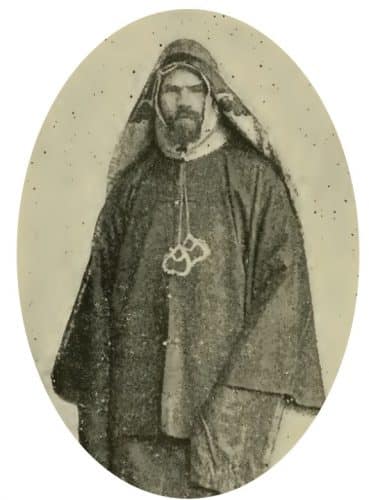 Cameron in travelling dress, The Story of the China Inland Mission (London: Morgan & Scott, 1894): 244.
Difficulties mounted as they climbed up and over a snow-clad pass. The glare from the snow so pained his eyes that Cameron at times walked with his eyes shut. Untrained and probably unfamiliar with the dangers of such conditions, his intelligence and indomitable spirit saw him through and enabled him to encourage his companion over the worst stretches. Cameron's shoes became unwearable. By the time they crossed the summit at 15,600 feet, his cheap straw sandals fell to pieces. "For more than sixty li [nominally twenty miles] we did not see a living soul, and then only one."
It was long after dark when they reached Batang on 31 October. They only secured a resting place because a woman took pity on them. The dangerous journey of more than thirty miles, complete with risks from snowstorms, injuries, and robbers, was over. "Hitherto hath the Lord helped us," Cameron wrote in his diary.
Cameron had long conversations with two Mandarins at Adenzi. They feared that Cameron intended to enter Tibet Proper, only five miles away, and were relieved when he said he had no such intention. Without the language to preach to the people, any attempt to enter Tibet would be useless.
From eastern Tibet to Yunnan
Cameron's prayer to learn the Tibetan language was answered in Batang where a young Tibetan who was willing to follow him as servant. On 5 November, Cameron and his two companions set out with three Batang men who the mandarin sent as an escort because the road was unsafe for a small party.
The following day they met five official couriers and learnt that a large body of Tibetans were guarding the border. Had Cameron attempted to enter, he would have been stopped. Looking out over the border, with Tibetan homes in view, Cameron sighed. "As I gazed upon it I wondered when the messengers of Jesus would have free access into it. It will be open some day!"
Progress was slow along the steep, broken, rocky tracks over the high ridges and deep chasms. On 14 November, they reached the last Manzi town, Adenzi (now Deqen) in Yunnan. That very night, Cameron had a severe attack of ague. Dangerously ill for more than two weeks, he thought the end was near, but his heart was in perfect peace.
As his strength slowly returned, Cameron had the joy of preaching to people in Adenzi. On 3 December, he set off for Dali, thinking he would soon be better once on the road. He only realized how weak he was when he tried to mount the mule and all but fell off. With no strength to control it, he had to have it led, mile upon mile over the snowy mountains and across perilous rope bridges.
The journey took them through the territory of the minority people of the Moso and the Minjia. Cameron had the chance to learn about the Minjia when he stayed with a Minjia host and son who could speak Chinese. Two neighbours joined them and the group listened attentively to Cameron. This was probably the first time the gospel was proclaimed to the Minjia.
Cameron reached Dali on 23 December and spent Christmas there. At last he could go from teashop to teashop, sure of an audience. On 28 December, he set out for Bhamo in Burma. In place after place gospel posters were still where McCarthy and evangelist Yang Cunling had pasted them up about one-and-a-half years before.[12] When Cameron reached Tengyue (Momein) on 9 January, he had to wait for the militia to clear the road ahead of robbers. More than a week later, Cameron joined a convoy of travellers under an escort of Kachins into the mountains of the Burma border. Unable to re-enter China from Bhamo, Cameron decided to return to Yunnan from Guangxi in the southeast.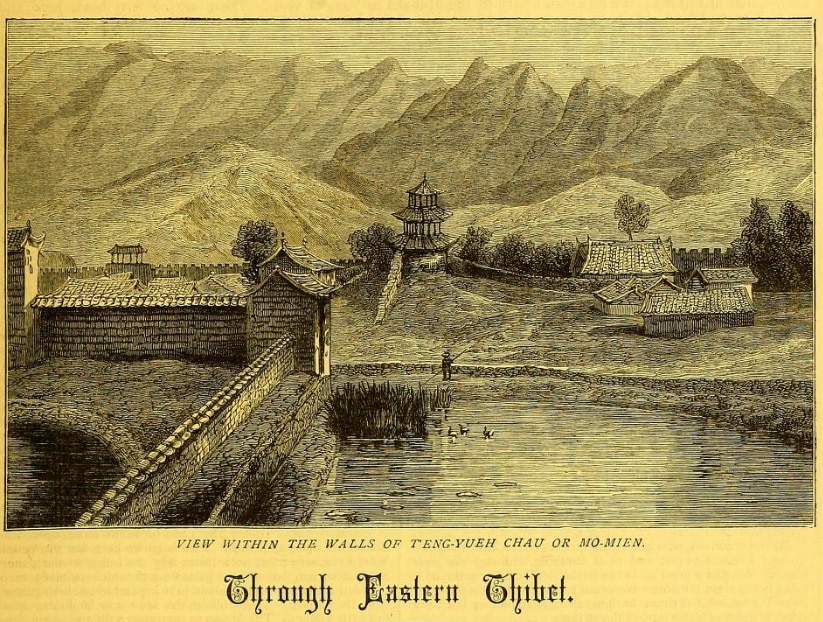 ​​​​​​​​​​​​​​
View within the walls of Teng-Yueh Chau or Mo-Mein, China's Millions (1879): 109.
Journey through south China
In January 1879, Cameron took an old steam-launch down the Irrawaddy to Rangoon (Yangon) and then travelled to Singapore, spending some time doing evangelistic work there before he went on to the newly-opened port of Beihai. There Bishop John Burdon kindly offered to have one of his Chinese students join Cameron as a travelling companion. Cameron and the student set off on 11 June, turning inland to journey through the provinces of Guangxi, Guizhou and Yunnan. He travelled to Sichuan before heading back and it took about six months before he returned to Beihai on Christmas Eve. Cameron set out from Beihai again after the Chinese New Year of 1879 when men could be engaged to carry the indispensable loads of books. He travelled to the provinces of Guangdong, Jiangxi, Fujian, and Zhejiang.
And he was not merely making a journey from one end of a province to the other. His intentionality can be seen from his diary record after they climbed over the Meiling Pass at 1000 feet to enter Jiangxi province: "I visited all the cities in the eastern part of the province . . . as I thought those cities had less chance of being visited [with the gospel] by others . . ."
His journeys through the southern provinces had their share of challenges and dangers. From Liuzhou to Guiyang, Cameron had to pass through an unsettled, robber-infested region. And after crossing the Red River from Guizhou to enter Yunnan, one of his carriers absconded with his load. As a highlander who knew how to follow a spoor, he pursued the thief and caught him red-handed. "Although I did not accuse him of trying to run off or even scold him, he was quite frightened, and at the nearest village the natives wanted to give him a beating, but of course they were not allowed (to)." In his journey through Guangdong, he discovered too late that the river-boat he engaged was already carrying two cases of smallpox and two of high fever.
There were also joys in unexpected places. When he reached Hekou (now Yanshan), he was surprised to find a mission station there and that the preacher was an old friend—a Chinese Christian he had known in Jiujiang. At an outstation further on, he was heartily welcomed by an old Christian farmer and his family. News soon spread that a missionary had arrived and the Christians gathered to spend the evening with him in fellowship. "We soon sat down to a sumptuous supper and . . . I had the best room given to me. For a long time after I could not sleep for joy."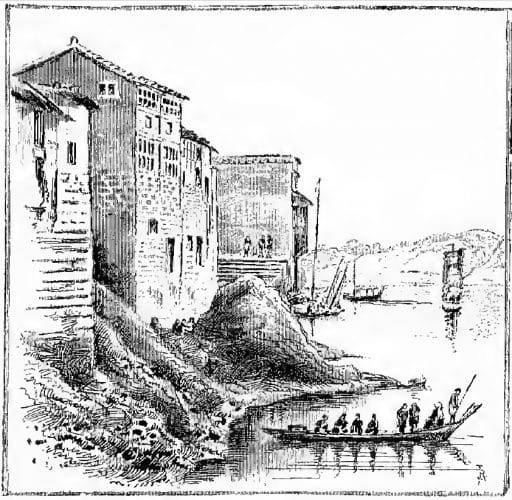 Mission station at Hekou in Jiangxi province, drawn by John T. Reid, The Story of the China Inland Mission (London: Morgan and Scott, 1894), 377.
Besides his direct preaching, Cameron's Christ-like life offered countless people a glimpse of the power of the message he proclaimed. How the people must have talked when he hired a wheelbarrow to carry his coolie who had an injured foot. At Ganzhou in Jiangxi, the elderly innkeeper was summoned to the Yamen and beaten for "harbouring a foreign devil." When Cameron found out, he wanted to go to the Yamen but all in the inn begged him not to. When the innkeeper returned, Cameron went to him and expressed his deep sympathy by a grasp of the hand. The next day, Cameron went to the Yamen and was invited in for a long conversation during which he mentioned the innkeeper and what he thought of the whole affair. Cameron parted with the innkeeper like friends and also gave him a little money for medicine.
Cameron was very human, and therefore not immune from loneliness and depression during the prolonged isolation experienced during long journeys. After he reached Quzhou in Zhejiang, where he spent several weeks there with missionaries and other visitors, he wrote, "In my life, parting seems to be the rule, and yet one never feels as if one could get used to it. On the way to [Shaoxing] I felt very lonely, notwithstanding the beautiful scenery." From Shaoxing, Cameron went on to Hangzhou and Shanghai to return to Yantai. He stayed about two months there to recuperate: "I was more run down than I was aware of."
Journeys to northeast and northwest China
While he was in Yantai, Cameron and Hudson Taylor planned his next long journey to Manchuria and the northeast. He set out from Yantai in September 1879 with Thomas W. Pigott, who had arrived in China only four months previously, and Bible Society colporteurs Guang and Wu. Unable to purchase mules in Tianjin as planned, Pigott and Guang took the main bulk of books by steamship to Yingkou, while Cameron and Wu travelled on the road, preaching and selling books first in Tianjin and in the cities along the way to Yingkou. Reunited there, Cameron, Piggott, Guang, and Wu set out with their books on a cart and a team of animals.
After travelling down the west coast of the Liaodong peninsula, the team had a close brush with death when they were overtaken by a severe snowstorm. Their supply of food was so small that they finished it the first night—each had no more than a quarter of an ordinary meal. Stuck in the open, their circumstances were serious in the extreme. They emptied the cart, shared their bedding, and huddled together in the cart for three days until Cameron and Pigott set out to try to reach the nearest town. They succeeded and returned with men and animals to help but found their companions had forsaken the cart.
When their companions turned up at the inn later, they together gave thanks for the Lord's deliverance. Many others, exposed as they were, had lost their lives during that terrible snowstorm. So miraculous did their escape strike the people that crowds listened attentively while they preached the gospel. God's wonderful protecting care over them had opened the hearts of the townspeople towards them and their message.
It was two weeks later before the roads were passable again and they were able to reach the nearest port of Pi-Tsi-Wo only because they travelled with other carts and the drivers helped each other out of innumerable difficulties. At the port, Wu and one carter had to be sent on a junk back to Yantai as one had frostbitten feet and pains in the legs prevented the other from walking. Pigott and Guang continued with the cartload of books to Shenyang (Mukden) by the main roads, while Cameron worked his way with a pack mule up the east coast of the peninsula alone.
Rejoining Pigott in Shenyang, they travelled north to Changchun in time for the Chinese New Year, the perfect opportunity for preaching and selling Christian literature to people from far and wide, including Mongols and Manchus from Heilongjiang. At Jilin, they drew large crowds and quickly sold two thousand books and tracts.
Their perseverance is remarkable as the journey was trying throughout, with the cart perpetually sticking fast in the mud, often up to the axles, and even to the shafts. In order to get through they needed to engage their shoulders and use brute force. Another obstacle was an unruly crowd that threw mud and stones at them at one city as they travelled back towards "China Proper" at Shanhaiguan.
The hardships did not deter Cameron from accepting another proposal to take a long journey to northwest China, a journey that began in May 1880. The ambitious plan to visit every city in Shanxi and the adjoining province of Shaanxi together with any neighbouring cities of Gansu would have been unrealistic in almost anyone else's hands. The faithful colporteur Guang teamed up with Cameron, and Piggott and Albert Parrot joined them for parts of the journey. The route included Kalgan (now Zhangjiakou), the strategic base near the Mongolian border, and headed bwestwards to Togtoh and Baotou, before returning eastwards to the city of Guihuacheng (now Hohhot).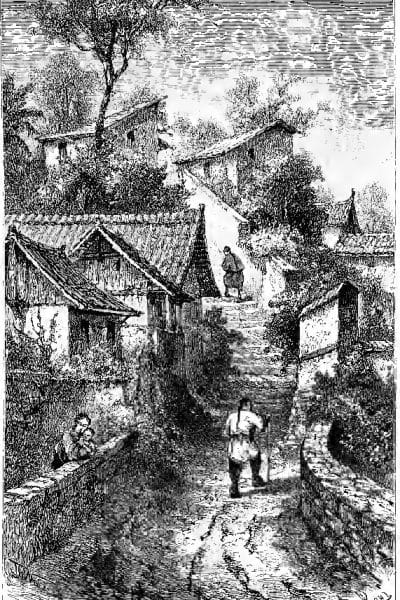 A village in Shanxi, The Story of the China Inland Mission (London: Morgan and Scott, 1894), 425.
The thoroughness of his journey is astounding considering the conditions endured. No inns existed fit for merchants, only caravanserai for muleteers and camel drivers. Brick beds and coarse corn or millet and steamed bread were the luxuries enjoyed after long, dusty days. At Shenmu on a main road to Beijing, Cameron wrote, "I had a stirring time" contending with drunkards—meaning that they had pestered and molested him and Pigott, taxing all his ingenuity to quieten and get rid of them.
After visiting the three last cities of Shaanxi, he reached Hanzhong and wrote, "I was indeed glad when I had reached the last city, and had disposed of my last Gospel. I felt much the need of rest, and I then thought of taking up settled work." Even so, he did not get the rest he desperately longed for, but selflessly accepted the God-given assignment to go with a Chinese Christian to Sichuan to preach the gospel to his family at their request.
After Cameron returned to Hanzhong, he travelled by stages—preaching wherever he could—back to Wuhan, Anqing, Zhenjiang, and to Shanghai for two months' work before returning to Yantai, in the summer of 1882. Over almost seven years from 1876 to 1882, he had travelled through seventeen of the eighteen provinces, as well as Manchuria, Mongolia, Sinkiang, Eastern Tibet, Burma and Hainan.
Cameron returned to England in August 1882. At the CIM annual meetings held in London in 1883, he paid a glowing tribute to members of other missions and to the Chinese, not only Christians. He explained how men would sit for hours talking with him at his inn and how he encouraged them to buy his books by saying, "Take these home, look them through, and bring them back."
Impact beyond his journeys
Believing that his influence for good would be much greater if he possessed a knowledge of medicine, Cameron sailed to New York in 1883 to take a medical course for missionaries and obtained the recognized qualification in September 1884.
After his return to China in 1886, he served as superintendent of the province of Shandong, with Chefoo (Yantai) as his main responsibility. He served at the Chefoo Hospital with Dr. Douthwaite where they rendered valuable medical aid to the Chinese. Serving together with them in the medical work was the kind and steadfast Mrs. Nell Rendall, the widow of George Rendall. Cameron married Nell in 1888 and they later moved to Chongqing where he engaged in medical, pastoral, and evangelistic work.
In August 1892, Cameron was seized with Asiatic cholera and passed away unexpectedly on 14 August. He was only 47 years old and the passing was felt keenly not only within the China Inland Mission. His funeral in Chongqing was attended by almost the entire missionary community and numerous Chinese believers who loved him as doctor, pastor, brother, and beloved friend.[13] Already the fruit of his journeys was seen—new CIM stations and churches had sprouted and begun to bear fruit from the seeds sown in interior provinces, other missions were beginning to follow suit, and the church in Europe and America was awakened to send reinforcements in their hundreds.
In ways far beyond human imagination, God was bringing this rich harvest of fruit in answer to the earnest prayers and longing of many, the same longing that helped Cameron to persevere in his long itinerant journeys, as clearly seen in his heartfelt address at the 17th anniversary meeting of the CIM on 31 May 1883:
My work has been that of an itinerant missionary. I believe in settled work: it is most important; and yet I believe that the work of the itinerant missionary is as important, if not more important, especially in the first stages of the work.
… I did not travel often by steam-boat. In the north we had carts without springs, we had also the wheelbarrow, but I preferred to use my own legs. … In travelling on foot we meet with the Chinese by the way, and get into conversation with them…
At night we come to an inn … and get a small room, or a small corner in a large room, without a screen or anything else. Our place is allotted to us, and the people hear that a foreigner has come. Well, they want to see him, and perhaps we have not been in three minutes before the whole place is full, right up to our very beds; aye, and they sit on the top of the bed too. There they are, staring at us, picking up our things and looking at them, and wanting to know … all they can about ourselves, even to our great great grandfather, and so on. We are able, in our turn, to ask them a few questions; and then we introduce the Gospel. I have seen them sit with me for hours and hours together.
… And, oh! dear friends, it is a solemn thought that, in coming into contact in that way with people, we meet them but once, it may be, in a lifetime. Oh, what a solemn thought this is: they never heard of CHRIST before: they may never hear of Him again!
… Now, I want you to pray for blessing on the seed that has been sown in China. I want you to pray for the books that have been sold or that have been given away in China. … While you look at all those journeys on the map, just think that God gave me the privilege in those places, not only of telling the people that the Lord Jesus Christ came down from heaven, … but that I had also the privilege of leaving portions of the Word of God. Sometimes I used to sell a few hundred portions of the Scriptures in one day… sometimes I would go into a village or a hamlet and not get one to buy. Did I leave them without the Word of God? No, I did not. My desire was to leave with them this precious Word, and that, after I had gone away, God would lead them to take the books from their shelves and read them, and would cause the truth to take hold upon their hearts.
In travelling about China, not only have I come into contact with Chinese, but in my western journey I came into contact with Tibetans and other tribes. I have stood sometimes and thought, "Well, if it were possible for me to divide myself up into parts, I would leave one part there, and another part there, and I would send another part there, and another part there." And why? Just that these people might have some one to tell them the good news of salvation. … In looking upon the people, what did the Lord JESUS say? He said to His own loved and redeemed ones, "The harvest truly is plenteous, but the labourers are few. Pray ye therefore the Lord of the harvest that He thrust forth labourers into His own harvest." Oh, shall He have to thrust us forth? Shall we not rather say, "Lord, here am I. Take me: send me."
Excerpted from China's Millions (1883): 126–127, italics original, https://archive.org/details/chinasmillions1883chin
[1] See "Travels of the late Dr. Cameron" in China's Millions British edition (1892): 165–166 https://archive.org/details/millions1884chin. The article was adapted from the news article in the Shanghai Mercury.
[2] "In journeying often," China's Millions British edition (1892): 46–49.
[3] See "The Plan of Operation of the China Inland Mission," China's Millions (1877): 44, 46, https://archive.org/details/chinasmillions1877chin. Some journeys of the pioneers are recounted in The Story of the China Inland Mission vol. II, 159–273, http://library.um.edu.mo/ebooks/b34229991b.pdf.
[4] See A. J. Broomhall, The Shaping of Modern China: Hudson Taylor's Life and Legacy vol. 2 (Piquant and OMF, 2005), 271–273. The Chefoo convention, signed by Sir Thomas Wade and Viceroy Li Hongzhang, covered a number of items unrelated to the Margary incident. It was an unequal treaty that extended the British rights by opening more Chinese ports to foreign trade. Assessments of the value of the convention were as many as they were contradictory, both at the time and since. China ratified the convention immediately, on September 17, but the British government did not ratify it until more concessions were extorted from China in July 1885.
[5] See The Prayer for the Eighteen.
[6] The escalating political tensions were linked to the murder of consular official Augustus Margary near Mangyuan. David Leffman "A Murder in Yunnan: The Margary Affair," The Diplomat (9 October 2018), https://thediplomat.com/2018/10/a-murder-in-yunnan-the-margary-affair/. See "In Journeying Often," China's Millions (1883): 2, https://archive.org/details/chinasmillions1883chin.
[7] Tibet at that time in 1877 comprised Central, or Tibet proper, Western or "Little Tibet (divided between Cashmir and Indian dominion), and Eastern Tibet (the western fifth of the province of Sichuan)," China's Millions (1879): 65.
[8] See Cameron's diary in "Through Eastern Tibet," China's Millions (1879): 65–68, https://archive.org/details/chinasmillions1879chin.
[9] Nicoll recovered on the way and together with Leaman, made an unplanned detour that became another historic reconnaissance. They took a route through Sichuan that was almost unknown to Westerners and shunned by Chinese—the route encircling Daliangshan, the homeland of the Nosu tribe. They reached Xichang and Huili before returning to Chongqing, a journey of 1,600 miles in four months. Charles Leaman's report on the journey in Sichuan was published in the Chinese Recorder (1878): 85–99, https://babel.hathitrust.org/cgi/pt?id=uc1.b3079820&view=1up&seq=179. The Lolos whom Nicoll and Leaman encountered along the journey is described in Nicoll's article in China's Millions (1878), 74–77, https://archive.org/details/chinasmillions1878chin.
[10] J. Huston Edgar was designated by the China Inland Mission to the border line of Tibet in July, 1901 and served there from 1902 to 1936. See also his books: The Land of Mystery, Tibet (Melbourne: CIM, 1928), http://digital.slv.vic.gov.au/dtl_publish/pdf/marc/24/2572827.html; The Marches of the Mantze (London: CIM, 1908), https://archive.org/details/cu31924023218393.
[11] Marshall Broomhall, The Jubilee Story of the China Inland Mission (London: Morgan & Scott, 1915), 282–283, https://catalog.hathitrust.org/Record/100435399.
[12] McCarthy's journey with Yang Cunling across Sichuan, Guizhou, and Yunnan to Bhamo is recounted in The Story of the China Inland Mission vol. II, 206–224, http://library.um.edu.mo/ebooks/b34229991b.pdf.
[13] "In Memoriam—James Cameron," China's Millions (1892): 152, https://archive.org/details/millions1892chin.