In a special programme broadcast on 10 November 1935, the BBC interviewed Frank Doggett Learner and listeners were captivated as he introduced them to the Tibetan mission work of the China Inland Mission. Unknown to them, they were listening to a man who was welcomed by people in Sining (Xining today) from all classes and walks of life, from the highest in society to the lowest beggar in the street. Read on to find out how Frank Learner followed the Lord's call and witnessed the unfolding story of God's work in the Tibetan frontier.
Beloved Highland
By Mugwort
Translated by Ma Kay Wai
Read the Chinese version in the free ebook 淨光高處開江河_五個關於西藏宣教的單元故事 (2022).
Acknowledgements: Thanks are due to Zhi Zhi for conducting research on Rev. Frank Doggett Learner and providing the materials for the compilation for this write-up, and in coordination of its publication. Gratitude is also due to Tze Hin for her contribution in editing the article.
One afternoon in early 1919, a mule carrying a full load of luggage from a far-away land, traversed the undulating yellow plain of the Qinghai Tibetan Highlands on a bright, sunny day. The foreign rider on its back, clothed in a Tibetan robe, was hurrying on his way through this vast, barren land.
Two months earlier, he had set off from Sining (Xining today) and he was still heading west after following the railway line to its terminus and arrived at the Tibetan frontier, in all, threading his way over more than two-hundred miles of terrain. He crossed the Yellow River, sailing upstream on a manually operated ferry that was overloaded with animals, cargo, and passengers. Back in the saddle, he rode across a one-hundred-year-old rotting bridge, with the roaring torrent visible between the boards below. He would never forget the visits to temples large and small, as well as the hundreds of Tibetan monks and living Buddhas whom he had befriended along the way.

Crossing a mountain pass 15,000 feet high on Tibetan border. Frank Doggett Learner, Rusty Hinges: A Story of Closed Doors Beginning to Open in North-east Tibet (London: CIM, 1934), 130.
Especially memorable for him were the thousand-meter high, snow-covered mountains, the stone gathered Mani heap, [1]  the beautiful flowers that sprung up from the green pastures under the blue sky, and the herdsmen camped near Qinghai Lake. Their cookies, roasted barley flour, and their faithful Tibetan mastiff—a powerful rough-coated dog—left a deep impression. This dedicated rider would visit every nomad household to sell gospel books and give out tracts and booklets. The Tibetan people usually responded well and shared their homemade butter and milk with this sincere friend. Over the past few years, he had been a regular visitor and the Tibetans' attitude towards him had changed. In the beginning, he couldn't even give the gospel books away, but now the people were willing to pay for them. Almost a thousand books were sold every year!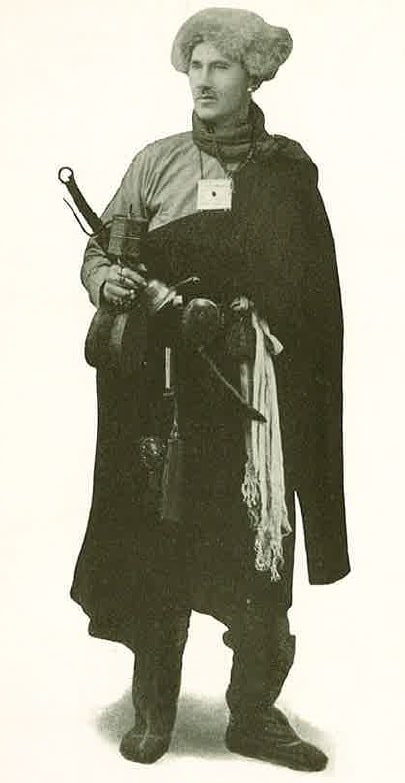 Frank Learner in Tibetan dress, Rusty Hinges.
The rider was Frank Doggett Learner, a missionary of the China Inland Mission. Born on 26 March 1886 in Norfolk, England, Learner was one of only two boys in a typically large Victorian family of seven children. His family had farmed for generations, but Learner's father produced franchised drugs for business and set up a Chemical factory. [2]  Responding to God's call, Frank joined the China Inland Mission in 1911 and arrived in Shanghai during October of the same year. For the following thirty-five years, he dedicated himself to Northwest China, paying a heavy toll, but without regrets. Frank Learner first went to Anqing of Anhui Province to learn the language and culture, and was then sent to serve in Lanzhou. In 1913, he was sent to Xining. At that time, Xining was a trading centre for Tibetan medicine, jewels, gold, horses, and wool—a multi-ethnic melting pot. After passing through the town gate, which had stood there for centuries, Frank stepped into the hustle and bustle of the street. His ears were filled with sounds of iron and copper craftworks, hawkers calling out their wares, and the noises of horses and donkeys. Among the people were the stout and strong Tibetans, many Mongolians, Muslims, and Aboriginal people. He started work with Henry French Ridley to build up the gospel station in Xining.
In addition to providing basic medical services, they distributed tracts and gospel booklets. Frank often went around with his Chinese teacher, "Little Han," and the workers of the Bible Society to the Tibetan area outside the town. In winter, many Tibetans came to Xining to do business. While there, many of them went to the gospel station to attend meetings and returned to their homes with Bibles. Gradually, Learner saw the door for the "good news" was opened as the obstacles of the traditional mindset were removed. Even so, he felt that relying on just one person to serve this one Tibetan tribe was both exhausting and time consuming. Since there were too few workers to serve this vast Tibetan land, he prayed to the Lord to send more workers. Each locality would require a team to speed up church building. He proposed that the Mission should focus on increasing their manpower in the area.[3]
In 1914, Frank married Annie Baxter, another missionary who had served in Baoning, Sichuan. After their marriage, they returned to Xining to serve together at the gospel station. Frank continued with his evangelical work whilst Annie served in the women's ministry. In 1915, they welcomed their firstborn son, Alfred.
When Frank returned to Xining from an itinerant mission trip in the spring of 1917, Annie was carrying their second child. Two-year-old Alfred caught typhoid fever, and though he initially recovered, his body remained in a weakened state. He then caught and succumbed to the whooping cough, joining the Lord on 20 May 1917. The sad couple buried him in the hill beside the Xining river. Annie gave birth to their second son, James, on 21 November the same year. God gave them a third child, Mary, in 1921. When she had just turned three, Mary died of scarlet fever and was buried in a little tomb erected for her on the hill in Xining beside her brother Alfred.
At that time, the church of Xining had about two hundred members, including twenty to thirty Tibetans, Mongolians, and Aboriginals. According to the historical records, a bad harvest in 1921 led to the starvation of many, and was followed by years of hardship. However, God showed Frank a vision that He would provide everything even under such difficult circumstances. On 1 December 1923, Frank opened the Tibetan Gospel Inn, serving Tibetans coming to Xining from far and wide—businessmen, herders, lamas, and living Buddhas. This project was even supported by the military government and local leaders of the time. By 1935, Frank and his team had reached more than ten thousand Tibetans. They had made great progress in their missionary work. In the 1920s, the chaos experienced across China made it just as difficult and dangerous to be a Christian as it had been during the days of the Boxer Uprising. It was even more dangerous for foreign missionaries, especially after the Shanghai incident in the Concession Settlement area. [4]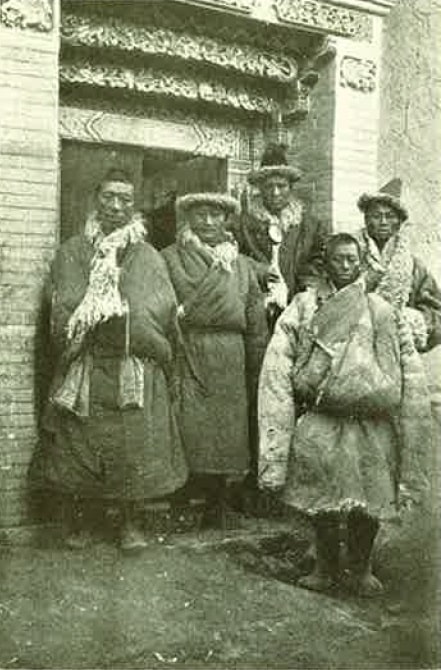 Guests at the entrance of the Tibetan Gospel Inn. Photo by Frank Learner, Rusty Hinges, 153.
1927 was a miserable year. It was not long after the birth of the Learner's fourth child, Margaret, that many consulates throughout China had to evacuate their nationals. Frank's family did not go back to England, but instead moved temporarily to Chefoo (now known as Yantai), Shandong, returning to Xining the following year. Their lives were plagued by banditry and the plundering of crops as fast as they could be harvested. The Learners shared in the suffering with the local Christian community.
The piety of Tibetans toward their religion is beyond imagination.  During his long years of service, Frank extended his mission to convert all who were willing to listen, from serfs to lama monks, living buddhas, and even the highest and second highest rulers of Tibet, the Dalai Lama and the Panchen Lama. He had visited the famous KumBum Monastery outside of Xining many times. In 1939, the fourteenth Dalai Lama was proclaimed and was staying in KumBum Monastery on his way to Lhasa. Frank obtained permission from the great Lama to meet this new Dalai Lama. Although only five years old, the new Dalai Lama was friendly and unafraid of strangers. Frank gave him Bible verse cards in the Tibetan language. He was delighted and they became friends, even taking photographs together. Learner felt sorry for this little boy who should be growing up in the care of his mother. Who knows whether he took the Bible verse cards along when he went to Lhasa?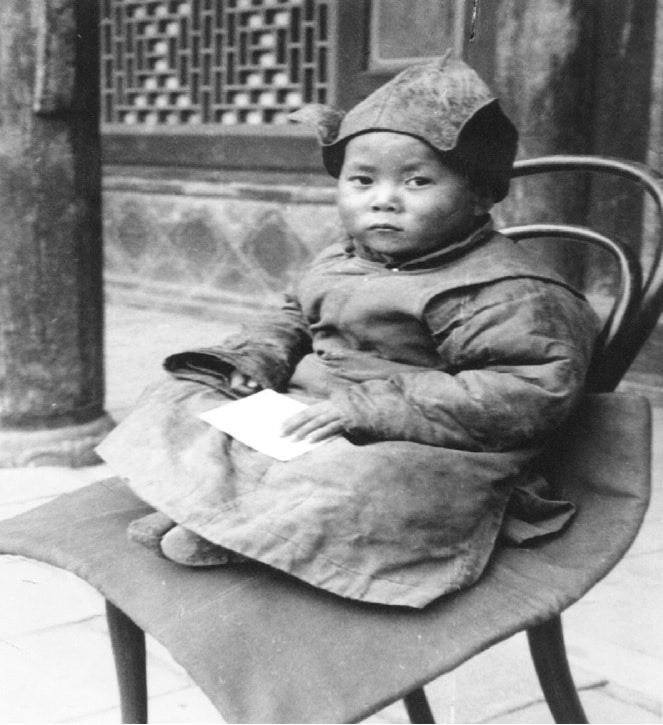 The fourteenth Dalai Lama at the age of five at Kumbum, holding Bible verse cards in his hands. Photo by Frank Learner, 1939.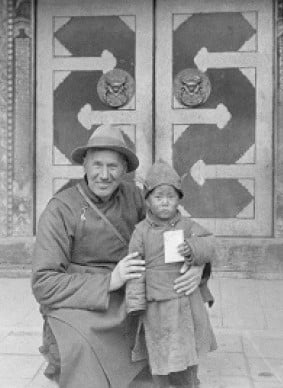 Frank Learner with the fourteenth Dalai Lama, 1939. "The New Dalai Lama," China's Millions, North American edition (September 1939): 135.
While on furlough, Learner made use of his limited time giving presentations at important meetings in London. Often at those meetings, he wore the Tibetan robe, bearing Tibetan bells and utensils, exhibiting the culture of Tibet. He demonstrated in a lively way his evangelistic experience and shared the needs of the gospel there. He witnessed God's great power among the Tibetans, encouraging more Christians to join the Tibetan mission field. He was active in mobilization meetings and activities. On 10 November 1935, he accepted a radio interview on a special programme broadcast by British Broadcasting Company (BBC). Frank introduced to the public the Tibetan mission work of the China Inland Mission.
Back in Xining, he was welcomed by all classes and walks of life, from the highest in society and government officials, to the lowest beggar in the street, whom Frank served by removing his painful and decayed tooth.[5] Those he met were numerous. He had great faith in the word of God and proved himself to be a man full of love and patience. He emphasized collaborating with people from various circles. Refusing to criticize, he did his best to encourage and protect others, and he showed himself to be accomplished in pastoral care. In order to find those who were absent from Sunday worship, he would ride his bike throughout the town. He loved the souls of the Tibetans. His famous book, Rusty Hinges, was the culmination of that love and his abiding wish to help people understand Tibet and see the challenge of the spiritual needs faced by missionaries.[6] During his life, Frank Learner faced many setbacks and moments of discouragement, but in each one he saw an opportunity to receive the grace of God. In October 1945, he returned to England for the last time, and had no chance to revisit to his beloved highlands. He spent his last few months bedridden and in the care of others, until, on 23 March 1947, he was called home by God, dying at the age of 61.
As time goes by, our world continues to revolve and change. Over seventy years have passed since the world lost Frank Doggett Learner. The gospel seeds he sowed on that great, high plain continue to grow fearlessly and vigorously, and to blossom and bear fruit. The two little tombs on the hill of Xining still echo the sounds of the endless stream of water running down its bank to the fertile ground below.
During the winter months especially, the streets of Sining are well-dotted with Tibetans as they come in from all sides to do business, both buying and selling. We continually have a stream of them coming to the Mission premises, and it is quite marked to notice how very friendly they are with us. I have seen as many as thirty Tibetans come into the Sunday morning service in the Chapel. . .  We indeed do have a wonderful opportunity of making the Gospel known to these Tibetans, and who can tell how many "seeds" will really fall into "good ground." – Frank Learner
F. D. Learner, "Tibetan Work in the District of Siningfu, Kansu." The Chinese Recorder and the Protestant Missionary Community in China, 1920: 689-693.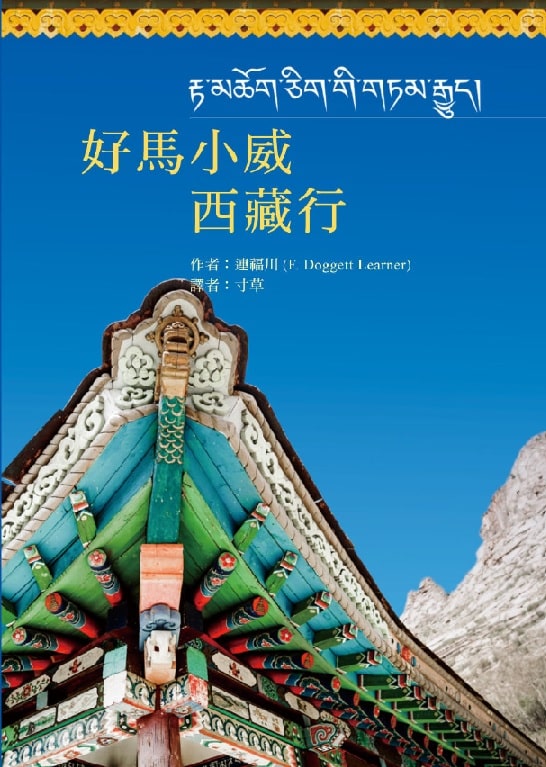 Tibetan Journey
by Frank Doggett Learner
Translated by Mugwort
Traditional Chinese translation མ་མེ་ཏོག་ publication (2022)
Download ebook from https://doi.org/10.5281/zenodo.6730471
Tibetan Journey is a narration of life events through the journey of Frank Learner. First published in English in the United Kingdom by Henry E. Walter in 1949, the book recounts Learner's 20,000 mile journey made in northwest China. To make the book interesting for young readers, the story is narrated in the first person by a horse who had accompanied the author for almost twenty years.    
[1] Tibetans used big and small rocks, pebbles, and stones to build up an altar called a Mani heap.
[2] David Hails, "Frank Doggett Learner and Annie Baxter," The Tibet Journal (2016): 137–46.
[3] Learner, F.D. "Tibetan Work in the District of Siningfu, Kansu," The Chinese Recorder (October 1920): 689-693.
[4] Elizabeth Perry, "Managing Student Protest in Republican China: Yenching and St. John's Compared." Frontiers History China 8, no. 1 (2013): 3–31; "The Shanghai Incident of May 30 1925," Religious Education 20 (1925): 420, https://www.tandfonline.com/doi/abs/10.1080/0034408250200602 (accessed 4 Febuary 2021).
[5] L. A. Street, "In Memoriam: Mr. F. D. Learner." China's Millions, British edition (May-June 1947): 35.
[6] Frank Doggett Learner, Rusty Hinges: A Story of Closed Doors Beginning to Open in North-East Tibet (London: CIM, 1934), https://missiology.org.uk/book_rusty-hinges_learner.php (accessed 4 February 2021).